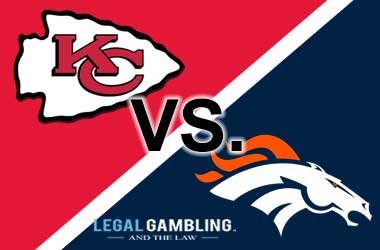 An AFC West divisional matchup kicks off Monday night, when the Kansas City Chiefs travel to Denver to take on the Denver Broncos. The Chiefs have dominated this rivalry recently, winning the last 5 matchups.
Kansas City defeated the Chargers week 1 38-28, and outlasted the Steelers 42-37 week 2. Last Sunday, the Chiefs beat the 49ers 38-27.
The Broncos are coming off a 24-14 loss to the Ravens. In week 1, the Broncos defeated the Seahawks 27-24, and won in Oakland 20-19 week 2.
Vegas currently has the Chiefs as 5 point favourites on the road with the O/U total set at 55.
Kansas City Chiefs
The Chiefs offense has been electric through 3 games. Quarterback Pat Mahomes has been sensational, leading the league with 13 passing touchdowns en route to leading the Chiefs to a league leading 39.3 points per game.
Mahomes has been wheeling and dealing, throwing touchdowns to 9 different receivers already this season, including 3 to Tyreek Hill. Hill has been impressive in his own right, slotting in 8th in the league with 310 yards, and averaging 22.1 yards per reception. Running back Kareem Hunt has struggled to follow up his league leading 1369 rushing yards from a season ago. Hunt has 2 touchdowns, but is only averaging 3.2 yards per carry on his way to just 168 yards, even though the Chiefs have primarily led in all 3 of their contests.
If you noticed a theme in all the Chiefs games so far this season, they've been shootouts through and through. The defense is definitely under scrutiny, allowing 30.7 points per game, good for 3rd in the league. Edge rushers Dee Ford and Justin Houston have 5 sacks between them, but their pass defense has been atrocious.
Injuries and Inactive Watch
EDGE Dee Ford (groin)- questionable, S Eric Berry (foot)- questionable, LB Terrance Smith (shin)- questionable
Denver Broncos
The Broncos are 2-1, but it may not feel like it. They are one of the least talked about teams in the league, probably due to their quarterback being Case Keenum. Keenum has been unspectacular this season, throwing 3 touchdowns in their week 1 win, but failing to get in the scoring column through the air since. Keenum has added a TD on the ground, but is tied for the league lead with 5 interceptions.
The rookie duo of Royce Freeman and Phillip Lindsay has been dynamic out of the backfield this season. The tandem has combined for 69 carries, 350 yards, and 2 touchdowns on the ground.
The Denver defense has been solid, averaging near the middle of the pack in every major defensive category. Edge rusher Von Miller is not at the top of his game yet this season, and still has 4 sacks. The safeties and linebackers have been picked on a bit in the passing game, with safety Justin Simmons and linebacker Todd Davis combining to allow 19 receptions, 233 yards, and 3 touchdowns.
Injuries and Inactive Watch
TE Jake Butt (knee)- Out, CB Tramaine Brock (groin)- Questionable, CB Adam Jones (hamstring)- Questionable
Matchups to Watch
Chiefs TE Travis Kelce vs Broncos S Justin Simmons
Chiefs OT Mitchell Schwartz vs Broncos EDGE Von Miller
Broncos RB Phillip Lindsay vs Chiefs LB Anthony Hitchens
Broncos WRs vs Chiefs Secondary
Predictions
This Chiefs offense is gonna be tough to stop all season. It's hard to gameplan against a quarterback with a Howitzer for an arm and a wide receiver who's nickname is "Cheetah".
I've said repeatedly that Mahomes is due for a down game where he throws 2 or 3 picks and everyone thinks the world is falling for the Chiefs. That's not happening this week. Andy Reid is too familiar with what the Broncos want to do defensively, and he will continue to let Mahomes loose.
The Chiefs offensive line is legit, and Mahomes gets the ball out quick. I don't see the Denver pass rush being too much of an issue. If the Chiefs can get up in the game early, expect a heavy dose of Kareem Hunt, as the Broncos D is among the worst in the league at stopping the run this season.
Case Keenum hasn't exactly lit the world on fire this year, but playing a weak Chiefs secondary will definitely help. Keenum should have his pick of receiver on any given play, and Phillip Lindsay could be extremely dangerous out of the backfield. Even so, the Broncos do not have the firepower to keep up with KC. This line should be closer to 6 or 6.5, but the Broncos home field advantage cannot be overstated. We are still drinking the Mahomes Kool-Aid, and I'm taking the Chiefs to win big on Monday night.
Final Pick: Chiefs (-5)