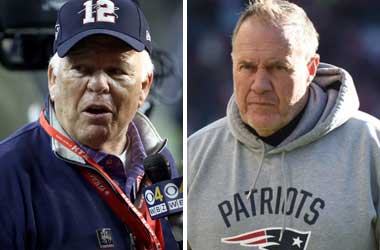 Tom Brady parted ways with the New England Patriots in 2020 and signed up with the Tampa Bay Buccaneers.
Many felt that Brady who joined the Patriots in 2020 would finish his career with the Patriots but things did not work out that way.
One of the main reasons for Brady leaving New England was because his relationship with head coach Bill Belichick soured during the last couple of years. The two tried to work things out but in the end Brady decided to move on.
Tom Brady helped the Tampa Bay Buccaneers win the National Football Conference (NFC) Championship and has also taken them to their first Super Bowl since 2003.
The Buccaneers have a huge challenge before them when they take on the Kansas City Chiefs at Super Bowl LV.
When Belichick and Tom Brady parted ways, both sides had a lot to prove. The duo had enormous success during their two decade long partnership and now had to show the world that they can achieve similar success without each other.
Tom Brady has accomplished that and shown that he can still create magic without Belichick by his side. Tom Brady Sr. points out that Bill Belichick hasn't been able to create magic with the New England Patriots this season. Tom Brady's absence has certainly impacted the Patriots and Belichick will be feeling the heat during Super Bowl Sunday.
Brady Sr. said that while Tommy's relationship with Belichick soured, he continues to have a great relationship with Patriot's owner Robert Kraft and his family. Brady Sr. says that Kraft contacted Tom Brady to congratulate him on winning the NFC Championship.
Brady Takes Buccaneers To Super Bowl Final
Super Bowl LV is set to take place on February 7. The Chiefs enters as the favorites with odds from BetOnline of -175 to Tampa Bay Buccaneers who have odds of +155. It's not surprise that Kansas City Chiefs are the betting favorites as they are the defending champions.
Whether Tampa Bay Buccaneers win or lose on Super Bowl Sunday, it is clear that Tom Brady's presence has made a huge difference to this team and the way they have performed this season. Given the competitor that Brady is, he will want to put in a great performance and lift another Super Bowl.