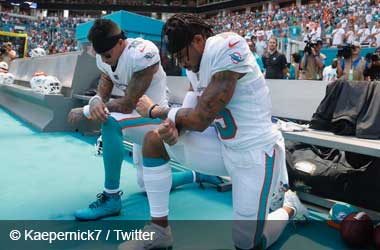 Kenny Stills and Albert Wilson were the only players to take a knee while the national anthem was played on Sunday. The two teammates received a thank you via Twitter from Colin Kaepernick who is a current NFL outcast. Kaepernick praised Stills and Wilson for showing their strength and continuing to fight for the oppressed in the name of love.
Kaepernick, who was with the San Francisco 49ers at the time started the whole national anthem controversy when he knelt during the anthem in a preseason game in 2016. It was his way of standing up to police brutality and the injustices that occur in the United States. Kaepernick has not been able to find a job in the NFL since opting out of his contract after the 2016 season and he is currently suing the NFL for collusion.
My Brothers @kstills and @ithinkisee12 continue to show their unwavering strength by fighting for the oppressed! They have not backed down, even when attacked and intimidated. Their courage will move the world forward!

"Love is at the root of our resistance!"✊🏾 pic.twitter.com/2kSsX4s7EU

— Colin Kaepernick (@Kaepernick7) September 9, 2018
Despite the controversy, Kaepernick still has his supporters. Nike released an advertisement last week that features Kaepernick and relays his message of "Believe in something, even if it means sacrificing everything".
Nike
As Stills and Wilson took a knee during the anthem in Miami, their teammate Robert Quinn raised his fist as did San Francisco's Marquise Goodwin in their game in Minnesota. Denver Bronco's wide receiver Damaryius Thomas and his teammate Brandon Marshall went into the tunnel during the anthem as did Seattle linemen Duane Brown and Quinton Jefferson.
Still A Hot Topic In America
The Seahawks had the most players show defiance last year but they only had two players take action in the opening week. Duane Brown stated that he wasn't concerned and that he made his decision without checking to see what his teammates were doing.
The NFL put an anthem policy in place back in May but they decided to rescind it so that the players union and the NFL could negotiate. Brown stated that he is not going to move on from the issue because the country isn't moving on from it.
Trump Sends Another Warning
Donald Trump, who has been very vocal on the subject, took to Twitter once again to take shots at the NFL.
Wow, NFL first game ratings are way down over an already really bad last year comparison. Viewership declined 13%, the lowest in over a decade. If the players stood proudly for our Flag and Anthem, and it is all shown on broadcast, maybe ratings could come back? Otherwise worse!

— Donald J. Trump (@realDonaldTrump) September 9, 2018