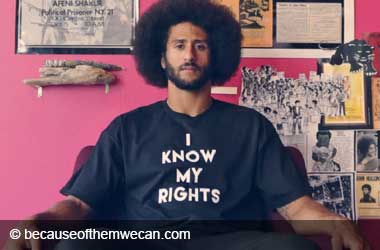 Colin Kaepernick and his legal team are savoring a small but important victory in his collusion case against the NFL.
The arbitrator who is overseeing the matter denied the NFL's bid to have the case thrown out. The NFL had argued Kaepernick and his lawyers did not have sufficient evidence to prove that the league conspired to keep the former quarterback from playing in the NFL.
Arbitrator Stephen Burbank considered arguments from both sides and he concluded that the case should proceed to the dismay of the NFL. This decision would indicate that Kaepernick's collusion case has merit and that he is deserving of a trial.
Since opting out of his contract in 2017, no teams have signed the former 49er although a few teams appear to have at least considered the possibility.
KPIX CBS SF Bay Area
Does This Decision Mean He Will Win?
This decision is by no means a guarantee that Kaepernick will win. It simply means that Kaepernick and his legal team were successful in blocking the NFL's bid to throw out the case. It's uncertain whether this ruling will tip the scales in Kaepernick's favor but it's worth mentioning that Burbank will be the one to hear the arguments and ultimately make a ruling on the case.
It seems logical to think that Burbank has seen some compelling evidence. He at least saw enough to allow the case to move forward. Burbank must now decide whether Kaepernick's lawyers can once again move to obtain documents, digital evidence and additional depositions.
What's Next?
A trial date is expected to be announced before the end of the year but the issue of additional discovery needs to be decided first. If Burbank allows discovery to be reopened then there will be another round of gathering evidence which would also likely include more depositions from team owners.
Sources have said that Kaepernick's lawyers will try to obtain a deposition from Donald Trump concerning statements that he made to team owners regarding protests and Kaepernick in particular. Trump's influence on NFL franchise owners has been a major topic in past depositions.
A lot of questions regarding the path of this collusion complaint remain unanswered but is appears that the most pressing issues have been resolved. The case will press ahead in spite of the NFL's attempts to stop it and the man who made a ruling in Kaepernick's favor will have the final say.