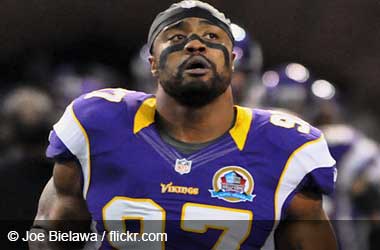 A sad and troubling mental health story has surfaced within the National Football League (NFL) involving Minnesota Vikings defensive end Everson Griffen.
The 30-year-old is alleged to have jumped out of an emergency vehicle out of fear that someone would shoot him. The NFL star started acting strangely on Saturday and was involved in a series of incidents which were then immediately reported to the police.
A Viking staffer contacted cops early Saturday morning as Griffen was starting to develop violent tendencies which could hurt himself or others.
Griffen's wife Tiffany said the three-time Pro Bowler had been fighting with demons in his head for some time now.
Among the incidents reported was an attempted break-in by Griffen into his teammate Trae Waynes' house. He allegedly ran through the bushes without a shirt. When the police arrived, he was no longer there. Waynes later clarified that there was no attempted break-in contrary to reports. Waynes went on to say that he and his family remain friends with Griffen and they are willing to support him in any way possible.
KARE 11
Griffen reportedly proceeded to a gasoline station nearby, got into the car of a man he recognized and ordered him to drive around. Cops rushed to the area and contacted paramedics to help Griffen. While he agreed to be transported to hospital to undergo a mental health evaluation, he jumped out of the ambulance during the drive after he saw a few deer running across the road.
Later he told police he was afraid someone would shoot him.
Griffen Is Not A Danger To Himself Or Others
Griffen was not his usual self in recent weeks as there were reports of him yelling and screaming while also losing control at the team facility. He was not allowed to take part in the team practice on Saturday following a series of untoward behavior. Les Pico, Vikings Executive Director of Player Development told police that they did not believe he would be a danger to himself or the people around him.
However it was serious enough for Griffen and his agent to have been informed by Vikings management that he would have to undergo a mental health exam before he could be allowed back to the team.
The NFL star is currently being evaluated at a hospital in the Minneapolis area and is receiving help with personal issues that are troubling him. Vikings General Manager Rick Spielman gave assurance on Monday night that the team would provide the appropriate support for Griffen and his family.