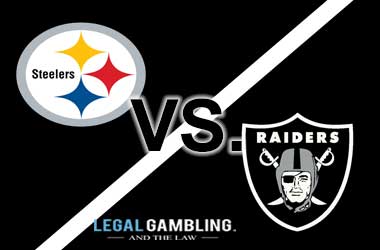 Pittsburgh travels to the west coast to take on Jon Gruden's Raiders Sunday afternoon. The Raiders lead the all time series 15-13, and the 2 have split their previous 4 matchups dating back to 2010.
The Steelers are coming off a last second 33-30 loss to the Chargers on Sunday night. In week 11, they beat the Jaguars 20-16, and lost 24-17 to the Broncos in week 12.
The Raiders played the Chiefs competitively last week, but lost 40-33. they beat the Cardinals 23-21 in week 11, and lost 34-17 to the Ravens in week 12.
Bovada have the Steelers as 11 point favourites with an O/U of 51.5.
Pittsburgh Steelers
The Steelers have dropped 2 straight in the final minutes of the game. An interception at the goal line in Denver and a last second Chargers field goal has the Steelers reeling. Ben Roethlisberger has thrown for 3945 yards, 26 TDs, and 13 INTs on the year while completing 66% of his passes and averaging 7.6 YPA. The Steelers have 2 targets with over 1000 receiving yards already, with JuJu Smith-Schuster catching 83 balls for 1104 yards and 4 TDs, and Antonio Brown catching 82 balls for 1028 yards and 12 TDs. James Conner sustained an ankle injury last week, and it appears the Steelers will be going with a committee comprised of Stevan Ridley, Jaylen Samuels and possibly Trey Edmunds to fill his role.
The Steelers defense is average in terms of points allowed, giving up 23.5 PPG. Their pass defense is top 10, allowing 228.5 yards per game and 23 TDs, while their pass rush ranks first with 41 sacks. Their run defense ranks top 10, giving up just 100.4 yards per game and 9 TDs on the ground. Pittsburgh has forced just 13 turnovers, and own a -8 turnover differential.
Injuries and Inactive Watch
WR Ryan Switzer (concussion) – questionable, RB James Conner (ankle) – out
Oakland Raiders
Some positive momentum last week came from the Raiders loss, as they played right with the Chiefs offensively. Derek Carr has thrown for 3112 yards, 16 TDs, and 8 INTs on the year while completing 69.2% of his passes and averaging 7.4 YPA. Tight end Jared Cook has been their most consistent receiver, tallying 54 catches for 709 yards and 6 TDs. Jordy Nelson has been a nice #2 with 35 catches for 450 yards and 3 TDs, while running back Jalen Richard has reined in 56 catches for 478 yards. Doug Martin has assumed the lead back role, carrying 105 times for 445 yards and 2 TDs.
The Raiders defense is second to last in scoring defense, allowing 30.6 PPG. The Raiders pass defense is just above average, giving up 243.3 yards per game and 29 TDs through the air, and their pas rush ranks dead last with just 10 sacks. Their run defense is 2nd worst, allowing 153.2 yards per game and 11 TDs on the ground. Oakland has forced just 12 turnovers, and own a -5 turnover differential.
Injuries and Inactive Watch
CB Daryl Worley (shoulder) – questionable, C Rodney Hudson (ankle) – questionable, DT Maurice Hurst (ankle) – questionable
Predictions
The Steelers have a propensity for not winning games as big as they should. Their offense, even sans James Conner, is still explosive and tough to slow down. Their run game, which has been the Raiders Achilles heel, may lose some proficiency, to where they may struggle to put this game away with a lead. Nothing the Raiders do defensively should scare them, however Big Ben has been turnover prone this season and a cheap turnover or 2 is not out of the question.
Offensively, the Raiders have dealt with a lot of inconsistency and struggles. Expect the Steelers pass rush to overwhelm the Raiders offensive line and make life uncomfortable for Derek Carr. The Raiders also don't feature anyone who can really gain separation on a consistent basis or test coverages. As mentioned previously, the Steelers have a tendency to play down to their competition, and while they are still expected to win, 11 points is too much for a team on the road that really hasn't shown to be a dominant force.
Final Pick: Raiders (+11)