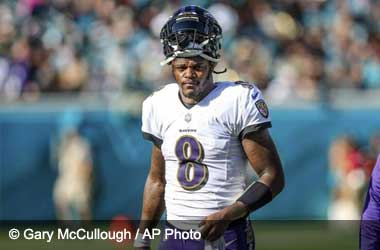 Summary
Baltimore Ravens have confirmed they have signed Lamar Jackson for 5 years
The Ravens will pay Jackson a guaranteed $185M in a potential $260M contract
Jackson took to social media to confirm the deal and sounded very pleased
There was a lot of speculation as to whether Lamar Jackson would renew his contract with the Baltimore Ravens or move to another NFL team.
The Ravens were keen on signing the 2019 NFL MVP but talks between the two seemed to be at a stand-off for some time.
Ravens Sign Lamar Jackson To 5 Year Contract
The Ravens have now announced that they have worked things out and signed their star player Lamar Jackson to a new 5 year contract. The contract is estimated to be valued at $290 million with Jackson guaranteed to receive a minimum of $185 million.
Baltimore Ravens made the announcement just before the first round of the NFL draft could commence and it was huge news for Ravens fans as retaining Lamar Jackson will help the Ravens continue to be one of the stronger teams in the upcoming NFL season. The Ravens were willing to pay top dollar to retain Jackson as this is one of the biggest contracts in NFL in recent history dwarfing the amount paid by the Packers to retain Aaron Rodgers services in 2018 .
The Ravens have strengthened their squad for the upcoming season by bringing on Odell Beckham Jr. and also Georgia's Todd Monken who will be their new offensive coordinator. Will Ravens make it to the NFL Playoffs next season, check out the latest odds from a selection of the best US sports betting sites.
Jackson Happy To Re-sign With The Ravens
Jackson was very happy to work out a new contract with the Baltimore Ravens and he took to social media to let Ravens fans know that he will be staying with the team. Jackson also confirmed the signing a new deal with the Ravens by making a video and posting it on social media.
In the video, Jackson goes on to say
You know for the last few months, there's been a lot of he say, she say, a lot of nail-biting, lot of head-scratching going on, but for the next five years, there's going to be a lot of flock going on. Let's go, baby. Let's go. Let's go, man. Can't wait to get there. Can't wait to be there. Can't wait to light up M&T Bank Stadium for the next five years, man. Let's get it.
We've agreed in principle on a 5-year contract extension with QB @Lj_era8‼️

😈😈😈😈 pic.twitter.com/tQj1Rzqcha

— Baltimore Ravens (@Ravens) April 27, 2023