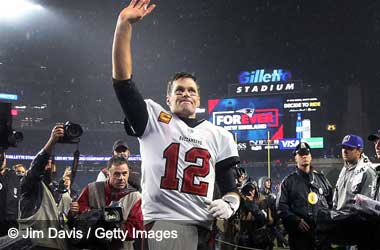 Summary
Tom Brady announces retirement from professional football
Brady still fit but wants to spend more time with his family
Brady fans bid bitter-sweet farewell to the legend
In January, rumours started circulating that Tom Brady was not keen on playing with the Tampa Bay Buccaneers anymore.
That's not because he had problems with the Bucs but because he felt that it was time to say goodbye.
The Bucs confirmed that Brady had not renewed his contract with them and had requested for more downtime to evaluate his future. Brady said he wanted to talk things over with his family and then make a decision.
Tom Brady Announces Retirement
Tom Brady is still one of the fittest players in the entire NFL and has gone on record to state that he feels that he can play into his 50s. Brady in the past has been reluctant to talk about his retirement as he always believed he had more to give to the sport.
The 44 year old quarterback took to Instagram and Twitter to tell his 11.1 million fans that he decided to say goodbye to the sport that he has loved for all the years.
— Tom Brady (@TomBrady) February 1, 2022
Brady told his fans that it requires a 100 percent commitment mentally, physically and emotionally to play in the NFL and he no longer is able to make that 100 percent commitment. He played for the last 22 years and is now ready to pursue other interests outside the NFL.
Fans Say Bitter-Sweet Farewell
Brady is NFL royalty with 3 MVP records and could very well end up with 4 as he is in the running to win the MVP this season. He also finishes with the most Super Bowl championships (7), the leading player in passing yards and passing touchdowns, the most number of Super Bowl appearances (10) and most number of quarterback wins in the regular and post season.
NFL Commissioner Roger Goodell released a statement and paid tribute to Brady, calling him the greatest player to have graced the NFL. His fans also took to social media to congratulate him on a legendary career and pay tribute to the memories he created for NFL fans over the last two decades.
NFL commissioner Roger Goodell on Tom Brady. pic.twitter.com/x7E0J2CfMQ

— Albert Breer (@AlbertBreer) February 1, 2022
Fans had earlier pleased with Brady's wife Gisele Bundchen to convince Brady to stay on for one more season but in the end the fans have accepted and are respectful of Brady's decision to call it a day!