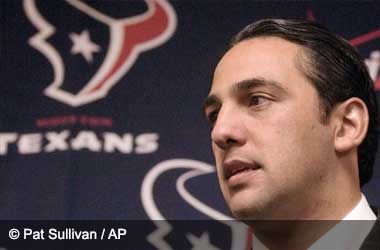 Summary:
Houston Texans minority owner Enrique Javier Loya is facing sexual assault charges
Loya was indicted on May 10 in a Kentucky court and was released on a $50K bond
NFL.com has drawn flak for not publishing this news on its website and playing it down
When an NFL team franchise owner or an NFL player allegedly ends up breaking the law and getting arrested, it makes huge headlines and the NFL tends to immediately acknowledge the incident.
However, this hasn't been the case when it comes to Enrique Javier Loya who is a minority owner with the Houston Texans.
Loya Facing Multiple Sexual Assault Charges
ESPN reported on August 07 that Loya is currently facing multiple sexual assault charges in Kentucky. Loya is reported to have been indicted on May 10 in Jefferson County Circuit Court in Kentucky for five counts of first-degree sexual abuse, one count of first-degree rape, and one count of third-degree sexual abuse.
His legal team pleaded not guilty on behalf of Loya and posted a $50,000 bond for him to be released. Loya and his legal team will now attend a pre-trial conference on Aug 22. The 53 year old Loya is one of the co-founders of OTC Global Holdings and holds less than a one percent stake with the Houston Texans.
The Texans responded by releasing a statement and confirming that they have already notified the NFL of the same.
In a statement, the Texans said
We are aware of the serious charges filed in the Commonwealth of Kentucky against Javier Loya, one of our outside limited partners. We have agreed with Mr. Loya that while these charges are pending, he will remove himself entirely from any team or League activities.
NFL.com Does Not Highlight Sexual Assault Lawsuit Against Loya
The NFL also released a statement through rep Brian McCarthy and said
The club promptly notified the league of the serious pending charges against Mr. Loya after they were filed. Mr. Loya has not been permitted to participate in any league or club activity during this process. He is no longer on any league committees.
While the Texans and the NFL have acknowledged the incident publically, there has been no information published on the official NFL.com website. This has drawn some flak as some fans feel that the NFL is playing the incident down given that Loya is just a minority owner instead of publishing the info and acknowledging the seriousness of the allegations made against an NFL team minority owner!