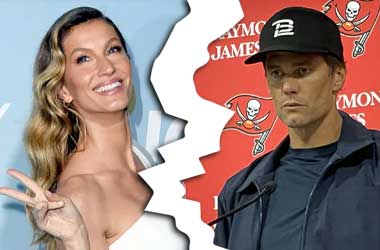 Summary
NFL star Tom Brady and his supermodel wife Gisele Bündchen filed for divorce in late 2022
Media reports suggested Bündchen was unhappy with Brady's decision to come out of retirement
Bündchen opened up in a recent Vanity Fair article and denies those reports
When NFL star Tom Brady announced his retirement for the first time on Feb 1, 2022, he told his fans that even though he felt physically fit and was ready to play on, he wanted to call time on his career and spend more time with his family.
Media reports suggested that his supermodel wife Gisele Bündchen was keen on having Brady spend more family time with her and their two children (10 year old daughter Vivian and 13 year old son Benjamin).
Tom Brady and Wife Gisele Bündchen Divorce
Brady's retirement did not last long as 6 weeks after retiring, he surprised his fans and confirmed that he was coming out of retirement as he felt he had more in the tank. Brady went on to play another season in the NFL with the Tampa Bay Buccaneers and went on to retire for a second time – this time for good!
When he came out of retirement, media reports suggested that wife Bündchen wasn't very happy with his decision and their marriage started to fall apart. Brady and Bündchen who met at 29 and 26 years old decided to file for divorce in October 2022. The media attacked Bündchen claiming that she decided to end the marriage because Brady decided to come out of retirement and play American football again!
Bündchen Denies Football Was Reason For Divorce
Bündchen recently opened up on her personal life in a recent issue of Vanity Fair and said it was very hurtful to see the media put out a false narrative and blame her for the divorce and claim she did so because Brady came out of retirement.
Bündchen said that a marriage does not fall apart because of just one decision and claimed that the two of them started growing apart as time went by and they realized that they wanted different things in life.
Bündchen says that she wishes her ex-husband Tom Brady nothing but the best and all the success in the world as he deserves it. Tom Brady is yet to make any comment on Bündchen's comments in Vanity Fair.