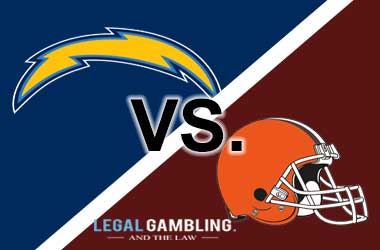 Two AFC teams trying to keep pace in their respective divisions face off Sunday in what should be an exciting game in the early slate. The Chargers lead the all time series 16-9-1, and the 2 have split their last 4 meetings.
The Chargers are coming off a 26-10 domination of the Oakland Raiders. Previously, the Chargers lost 35-23 to the Rams in week 3, and squeaked by the 49ers 29-27 in week 4.
The Browns outlasted the Baltimore Ravens 12-9 in overtime. In week 3, the Browns defeated the Jets 21-17, and lost to the Raiders 45-42 in week 4.
Oddsmakers currently has the Chargers as 1 point favourites, and the O/U total is set at 44.5.
Los Angeles Chargers
The Chargers handled the Raiders last week, and Philip Rivers continues to be a dominant force this season. Rivers threw for 339 and 2 touchdowns on an efficient 22/27 passing. Melvin Gordon and Austin Ekeler were not really factors in the run game, combining for 25 carries for 73 yards and a touchdown, but were a force out of the backfield in the pass game.
Gordon caught 4 passes for 62 yards and Ekeler caught a single pass for 44 yards and a TD. Keenan Allen continues to be a go to receiver, catching all 8 of his targets for 90 yards, while Tyrell Williams and Mike Williams each chipped in with 3 catches for 66 and 45 yards respectively. Against a weak Raiders pass rush, the Chargers OL allowed just 7 pressures, and 4 came from Trent Scott in his first start of the season.
The Chargers still miss Joey Bosa off the edge, but Melvin Ingram has performed well, and they have gotten contributions from Isaac Rochell and Uchenna Nwosu in Bosa's stead. Ingram had a sack and an INT against the Raiders, showing his playmaking ability. The Chargers secondary also performed well, with Casey Hayward locking down Amari Cooper, and rookie Derwin James continuing to be a versatile chess piece, allowing just 14 yards on 3 targets.
Injuries and Inactive Watch
WR Travis Benjamin (heel) – out, OT Russell Okung (groin) – questionable, OT Joe Barksdale (knee) – questionable
Cleveland Browns
After years of being written off in close games, the Browns are starting to finish late in games. After the comeback against the Jets, the Browns really should have beaten the Raiders, and got an OT win against the division rival Ravens.
Baker Mayfield has been everything he was advertised as coming out of college, and put it all on display against possibly the best defense in the league. Baker threw for 342 yards, a TD, and an INT on 25/43 attempts, displaying a mix of gunslinging mentality and excellent decision-making. Mayfield is also bringing out the potential in Rashard Higgins. Higgins caught 3 balls for 66 yards and a TD. Running back Duke Johnson is still a bit underutilized for my taste, but he and Carlos Hyde are forming a really solid duo in the backfield, combining for 22 carries for 98 yards. The interior of the offensive line continues to dominate, while young tackles Desmond Harrison and Chris Hubbard combined to allow 13 pressures against Baltimore.
Jabrill Peppers is starting to play like a first round talent. He was all over the field Sunday, breaking up 2 passes and not allowing a catch on 3 targets. The defensive front can come at you in a variety of ways, with Larry Ogunjobi leading the team in pressures against Baltimore with 7. Myles Garrett also added 4 pressures and a sack. Denzel Ward also continues to be a playmaker, coming up with a huge pick in the redzone, and allowing just 5 catches on 14 targets.
Injuries and Inactive Watch
WR Rashard Higgins (knee) – out, LB James Burgess (knee) – questionable
Predictions
Outside of last week, the Chargers haven't really shown us anything that says "road favourite", and the Browns are a team trending in the right direction. Rivers is going to be able to throw the ball around the yard like he always does, but up front the Browns have some studs that can get after the QB, and should find success against a subpar Chargers OL.
Rivers may put up gaudy numbers, but the Browns D has the playmakers where I believe they can get a turnover or 2 to flip this game on it's head.
Baker Mayfield has shown he can sling it against the best, and the Chargers secondary is anything but. The Chargers defense is nothing special, and while Melvin Ingram may have a big sack or 2, the Browns should have no issue moving the ball down the field with consistency. Mayfield and the Browns should return home after a huge win and ride that confidence to a win streak. We can't believe we are saying this but we take the Browns to cover, and win at home.
Final Pick: Browns (+1) and MoneyLine