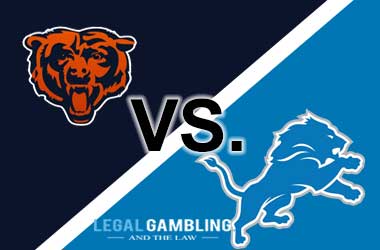 Thanksgiving morning features a timeless rivalry as the Detroit Lions host the Chicago Bears. The Bears lead the all time series 98-74-5, and the Bears won the previous matchup this season between the two 34-22.
The Bears won a divisional matchup over the Vikings 25-20 on Sunday night. In week 9, they handled the Bills 41-9, and beat the Lions 34-22 in week 10.
The Lions are coming off a 20-19 upset of the Carolina Panthers. In week 9, they lost 24-9 to the Vikings, and lost to the Bears 34-22 in week 10.
Intertops have the Bears favoured by 4 points on the road, with an O/U of 45.
Chicago Bears
The Bears are looking like the most complete team in the league. No one can boast their level of defense combined with more than capable offense. Mitch Trubisky has shown an excellent command of Matt Nagy's offense, finding open receivers and spreading the ball around to the tune of 2469 yards, 20 TDs, and 7.7 YPA. He is also completing 65.4% of his passes and has thrown 9 picks this year. As previously mentioned, the Bears involve a variety of receivers, and Tarik Cohen (40/458/3), Taylor Gabriel (44/478/2), Trey Burton (34/420/5), and Allen Robinson (34/457/4) all threaten the defense in different ways. Trubisky is also a threat with his legs, tallying 51 carries for 363 yards and 3 TDs. Jordan Howard leads the team with 155 carries for 523 yards and 5 TDs. Cohen provides an excellent change of pace as he has 63 carries for 271 yards and 2 TDs.
The Bears defense is top 5 in PPG at 19.5, and is just outside the top 10 allowing 236.6 yards per game, but 19 TDs through the air. Chicago has the top run defense in the league, allowing just 77.8 yards per game and just 2 TDs all season. The Bears have been the best in the league at forcing turnovers this year with 18 INTs and 9 recovered fumbles, lead the league with 4 defensive TDs, and are top 5 in sacks with 32 on the year.
Injuries and Inactive Watch
TE Adam Shaheen (concussion) – questionable, QB Mitch Trubisky (shoulder) – unknown, EDGE Aaron Lynch (concussion) – concussion
Detroit Lions
The Lions are one of the mysteries of the season, as they appear to be a solid team some weeks, and don't show up another. Matt Stafford is playing solid football, but doesn't appear to have as much juice on his balls or the same gunslinger mentality that has made him so dangerous in the past. On the year, Stafford has 17 TDs and 8 INTs, has thrown for 2605 yards, is averaging 7.1 YPA and is completing 66.3% of his passes. Kenny Golladay has emerged as their #1 receiver, catching 47 balls for 714 yards and 5 TDs. Theo Riddick is still a threat out of the backfield, tallying 41 catches for 264 yards, while Marvin Jones has caught 35 balls for 508 yards and 5 TDs. After a strong couple of weeks, Kerryon Johnson has cooled off a bit, but still has 118 carries for 641 yards and 3 TDs on the year.
Detroit is bottom 10 in points allowed at 16.3 PPG. They are allowing 239.6 yards per game and allowed 22 TDs through the air. The Lions are in the bottom half in run defense, allowing 125 yards per game and 8 TDs on the year. Detroit is among the worst at forcing turnovers, picking off just 4 passes and recovering 5 fumbles, and are in the top 10 in sacks with 28.
Injuries and Inactive Watch
EDGE Ziggy Ansah (shoulder) – questionable, CB Darius Slay (knee) – questionable, WR Marvin Jones (knee) – questionable
Predictions
The Lions defense has not been great this year, and the Bears offense should find success. Matt Patricia will have some savvy playcalls to knock Trubisky off balance and force some stops, but they should be able to move the ball at will. Detroit lacks consistency in their pass rush, and Trubisky could find some running lanes on scrambles. The variety of ways the Bears can attack defenses should keep the Lions off balance, and the two running backs could play a huge role in this one.
The Lions offense has not looked great these past few weeks, and the Bears defense is debatably the top unit in the league. Look for them to take advantage of a shaky Lions O line and rack up a few sacks and a turnover or 2. Now, no one can really matchup with Kenny Golladay in the Bears defensive backfield, and he may bust a few big plays, but Kerryon Johnson will find tough sledding against the Bears top ranked run defense. Yes it's Thanksgiving and the Bears are on a bit of a shorter week after playing Sunday night but 4 points seems like a no brainer. Gimme Da Bears.
Final Pick: Bears (-4)