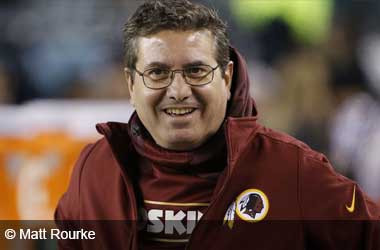 Dan Snyder who owns 40.59 percent of the Washington NFL franchise is looking to get almost full control of the team. Snyder is looking to buy out three minority shareholders who when combined own 40.5 percent of the NFL franchise.
The three minority stake holders are Dwight Schar, Robert Rothman and Fred Smith who purchased their shares back in 2003. The three of them had earlier tried to sell their stake in the Washington franchise when they received a $900 million offer in November 2020. However, Dan Snyder blocked their offer and they were not very happy with that move.
Snyder is now looking to buy out the combined 40.5 percent in minority shares for a total of $875 million.
Snyder had put in an application to get the NFL to grant him a waiver of $450 million and the application was recently approved by the NFL financial committee. He will now have to wait and see how the remaining NFL franchise owners vote on the deal.
NBC Sports
The vote will take place during the NFL's annual meeting which is set to take place in final week of March 2021. For the approval process to be complete, Snyder needs a minimum of 24 votes from the 32 NFL team owners.
While Snyder owns 40.59 percent of the Washington franchise, his sister Michelle owns another 12.55 percent and his mother owns another 6.5 percent. Snyder's push to acquire the remaining 40.5 percent in minority shares comes at a value of $875 million. He will have time till 2028 to repay the debt.
Washington Continues To Improve Brand Image
The Washington Football team has received a lot of criticism in recent months. Formerly known as the Washington Redskins, they decided to drop the Redskins tag on that basis that it was discriminatory. The team is now in the process of going through a completely makeover that includes getting a new name and logo. It will continue to go under the Washington Football team banner for the 2021 season and roll out its makeover for the 2022 season.
Washington Football team has also had to publically deal with multiple sexual assault allegations from different women who claim that this happened during a 15 year period. An independent investigation into the matter was launched lawyer Beth Wilkinson. A final report on the matter is yet to be released.