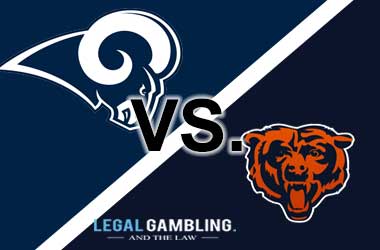 Two NFC heavyweights go at it in Chicago as the Rams attempt to retain their #1 seed.
The Bears lead the all time series 53-36-3, and have won 5 of the last 6 head to head.
The Rams won a 30-16 game last week in Detroit coming off their bye week. In week 10, they beat the Seahawks 36-31, and beat the Chiefs 54-51 in week 11.
The Bears dropped one last week in a 30-27 loss to the Giants. in week 11, they beat the Vikings 25-20, and in week 12 they beat the Lions 23-16.
BetOnline have the Rams as 3 point road favourites with an O/U of 51.5
Los Angeles Ram
Jared Goff had his worst game of the season, and debatable his worst game in the McVay era, and the Rams still won by double digits and put up 30 points. Outside of last week, Goff has been very good, throwing for 3754 yards, 27 TDs and 7 INTs on the year while completing 66.4% of his passes and averaging 9.1 YPA. Robert Woods and Brandin Cooks have been an excellent 1-2 punch at receiver, with Woods going for 971 yards and 5 TDs on 64 catches while Cooks has caught 63 balls for 1026 yards and 3 TDs. Todd Gurley has been a solid outlet as well, catching 46 balls for 474 yards and 4 TDs. Gurley also leads the league in rushing with 1175 yards and 15 TDs on 233 carries.
The Rams defense ranks below average in terms of scoring, allowing 24.8 PPG. Their pass defense is just below average, allowing 248.9 yards per game and 26 TDs through the air, while their pass rush ranks just outside the top 10 with 33 sacks. Their run defense meanwhile ranks just below average with 118.4 yards per game allowed and 8 TDs on the ground. The Rams defense has forced 22 turnovers this season, and as a team they rank t-2nd with a turnover differential of +11.
Injuries and Inactive Watch
RB Malcolm Brown (collarbone) – out
Chicago Bears
The Bears were without their starting QB Mitchell Trubisky the last 2 weeks, going 1-1 in that time. Trubisky has been solid this year, throwing for 2469 yards, 20 TDs and 9 INTs while completing 65.4% of his passes and averaging 7.7 YPA. The Bears have a bevy of offensive weapons and love to spread the ball around. Tarik Cohen (59/659/4), Allen Robinson (41/573/4), Taylor Gabriel (54/544/2), and Trey Burton (38/448/5) are all dangerous and allow Matt Nagy to attack defenses in multiple ways. Jordan Howard leads the team in rushing with 612 yards and 5 TDs on 178 carries while Trubisky has rushed 51 times for 363 yards and 3 TDs and Tarik Cohen has 315 yards and 2 TDs on 74 carries.
The Bears defense ranks in the top 5 in terms of scoring, allowing just 20.1 PPG. Their pass defense ranks just outside the top 10, allowing 232.1 yards per game and 21 TDs through the air, while their pass rush ranks top 5 with 37 sacks. Their run defense ranks 2nd, allowing just 85.8 yards per game and 4 TDs. The Bears D lead the league with 30 turnovers forced, and Chicago leads the league with a +12 turnover differential.
Injuries and Inactive Watch
S Deon Bush (hamstring) – questionable
Predictions
The Bears haven't seen anything close to the Rams offense this season due to a relatively easy schedule. After a bit of a let down last week, Sean McVay is going to have his team up to the challenge of a top competitor, and you have to imagine he will have a few tricks up his sleeve for the Bears tough D. While Todd Gurley may find tough sledding in the run game, Jared Goff and the Rams receivers should find favorable matchups in man to man. The Rams offensive line has also been very good this season, and will have a plan to neutralize Khalil Mack and the Bears pass rush.
One has to wonder about Mitchell Trubisky coming off a shoulder injury and 2 weeks away from live action. While the Rams defense is not world beating, they have playmakers at all 3 levels, and are still being boosted by the readdition of Aqib Talib. The Bears will put up points, but a few big plays from Aaron Donald will turn the tide of this one and give the Rams a W.
Final Pick: Rams (-3)