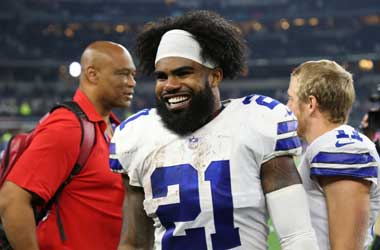 Ezekiel Elliott is set to become the NFL's highest-paid running back, after signing a six-year $90-million extension with the Dallas Cowboys. The deal finally puts to end a prolonged preseason standoff that nearly threatened his future with the Cowboys with the new NFL season about to begin.
Elliott forced the Cowboys' hand by mounting a standoff in the offseason, refusing to report to camp for drills and backing out of a team charter to Oxnard, California to train in Cabo San Lucas.
With the new deal, the 24-year-old Pro Bowler has dethroned Todd Gurley as the top-paid running back in the league, in both guaranteed money and annual value. Gurley signed a four-year $57.5 million pact with the Los Angeles Rams last July.
Elliott is set to get $50 million guaranteed, compared to the $22 million in Gurley's renewal. Also taking into account the final two years of his standing contract, Elliott is expected to amass at least $103 million over the next eight years.
Dallas Cowboys
Despite still having two years on his rookie contract, Elliott expressed his discontent in the preseason to launch an unprecedented holdout that would force the Cowboys back to the negotiation table. Drafted by Dallas from Ohio State in 2016, Elliott in the last three NFL seasons has proven himself invaluable to the Cowboys' offensive, leading all running backs in rushing yards per game for three years in a row now.
With a career 4,048 yards and 28 touchdowns on the ground, and 1,199 yards and six touchdowns through the air, Elliott has demonstrated unmatched domination on the turf.
Cowboys Looking To Resign Their Top Players
The offseason was the Dallas Cowboys' cue to renew contracts with its star players, most of whom were entering the penultimate year of their deals. Elliott joins linebacker Jaylon Smith, offensive tackle La'el Collins, and defensive end DeMarcus Lawrence as reenlisted agents with long-term extensions.
Dallas stalwarts quarterback Dak Prescott and receiver Amari Cooper, vital to the Cowboys' running play, are the likely next priorities as both are about step into the final year of their existing contracts.
It has come as no surprise that the rookie Elliott has fetched such a lucrative deal as he is held in high regard by everyone including the 76-year-old owner Jerry Jones. The Dallas Cowboys owner admitted that "Zeke" made the Cowboys a better team and was vital to their plans going forward.