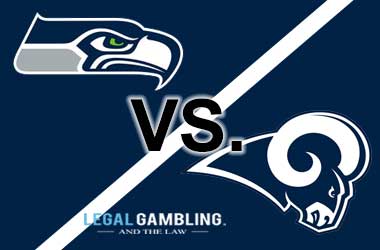 Sunday pits 2 NFC West rivals against eachother for the second time this season. The Seahawks lead the all time series 23-17, but the Rams have won 2 straight including a 33-31 win earlier this season in Seattle.
The Seahawks are coming off a 25-17 loss to the Chargers that came down to the final play. In week 6, they handled the Raiders 27-3, had a bye in week 7, and beat the Lions 28-14 in week 8.
The Rams are coming off their first loss of the season, falling 35-45 to the Saints. In week 7, they dominated the 49ers 39-10, and beat the Packers 29-27 in week 8.
GTBets has the Rams as 10 point favourites at home, with an O/U total of 50.5.
Seattle Seahawks
(4-4 overall, 3-1 on the road)
The Seahawks are a team with a very distinct identity at this point, rushing a league leading 31.8 times per game. Although Russell Wilson is not being asked to throw as much, he is still playing great football. He is completing 66.1% of his passes and averaging 8.1 yards per attempt, throwing for 1791 yards, 18 TDs, and 5 INTs on the year. Chris Carson is the teams leading rusher, rushing 111 times on the year for 497 yards and 2 TDs.
There are concerns over Carson's status for Sunday, and if he isn't good to go, Mike Davis will get the call, who has 67 carries for 288 yards and 3 TDs this season. Tyler Lockett has been the de facto #1 receiver with Doug Baldwin missing so much time, and has 28 catches for 416 yards and 6 TDs. David Moore has come on strongly in the redzone, catching 13 balls for 237 yards and 4 TDs.
Seattle's pass defense ranks 6th in terms of yards per game allowed at 218.5 yards per game, and have allowed just 12 TDs on the season. Their run defense ranks bottom 10, allowing 114.8 yards per game at 4.8 yards per carry, but have given up just 5 TDs on the ground. Seattle has done a nice job of forcing turnovers having picked off 10 passes and recovering 6 fumbles, and rank towards the middle of the league with 21 sacks.
Injuries and Inactive Watch
WR Doug Baldwin (groin) – questionable, RB Chris Carson (hip) – questionable, S Bradley McDougald (knee) – questionable
Los Angeles Rams
(8-1 overall, 4-0 at home)
The Rams showed resiliency in the face of their first real adversity this season against the Saints, coming back from a 21 point deficit to tie the game before eventually losing. Jared Goff has been spectacular this season, completing 67.9% of his passes and ranking 2nd in yards (2816), 3rd in TDs (20), and 2nd in yards per attempt (9.6).
Goff spreads the ball around well, and Brandin Cooks (41/757/3), Robert Woods (51/743/3), and Cooper Kupp (35/527/6) are all on pace for 1000 yards, while Todd Gurley has caught 37 balls for 362 yards and 4 TDs as well. Gurley leads the league in rushing yards and TDs as well with 868 yards and 12 TDs, and is averaging 4.8 yards per carry.
The Rams rank in the middle of the league allowing 243.3 yards per game through the air, and have given up 16 passing TDs. They also rank middle of the pack in rushing D, allowing 105.3 yards per game, and have allowed 7 TDs. They have been solid turning the ball over, picking off 7 passes and recovering 7 fumbles, and rank middle of the pack rushing the passer with 22 sacks.
Injuries and Inactive Watch
CB Aqib Talib (ankle) – out
Predictions
Many expected the Seahawks to flame out with the loss of all their big defensive pieces, but have really shown out, losing by an average margin of just 5 points in their 4 losses. The Rams have shown a susceptibility to the run, and that is exactly what the Seahawks did last time these 2 teams met, and intend to do this time around as well. Whether it is Chris Carson or Mike Davis, the Seahawks should have no problem ripping off consistent chunks, and will be an issue for the Rams.
The Rams offense is as high powered as it gets, but faces a tough task against Seattle. They take what the defense gives you, however, and if Seattle shows the same vulnerability in the run game as they have recently, you can expect the Rams to ride Todd Gurley up and down the field. Winning the turnover battle will be huge in this matchup due to these teams familiarity. I think the Rams come out pissed off after their first loss, but 10 points is too much for me to buy into. We will take Seattle to cover, but barely.
Final Pick: Seahawks (+10)