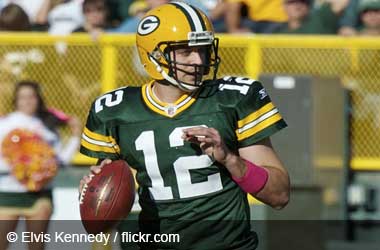 Aaron Rodgers watched patiently as other NFl players have signed some very lucrative contracts during the offseason.
Now, the two-time NFL MVP is enjoying his moment in the spotlight after signing a record-breaking four-year contract extension with the Green Bay Packers worth a whopping $134 million. The deal, which is rumoured to include over $100 million in guarantees, could be worth up to $180 million with incentives.
One of the important aspects of the deal from Rodgers' point of view is the cash that he'll receive in the first year of the deal. It is expected that Rodgers will be paid $67 million by the end of 2018 and then another $13 million prior to March 17th, 2019.
The two sides started working on an extension in early March when GM Brian Gutekunst stated that the deal would be completed during the offseason.
ESPN
Comparing Salaries
Matt Ryan signed an extension with the Atlanta Falcons in May which averages $30 million per year. Prior to that, Jimmy Garoppolo inked a deal with the Niners which will see him get an average yearly salary of $27.5 million and Kirk Cousins got the Minnesota Vikings to cough up $28 million per year. When he signed his last deal for $84 million over 3 years, it made him the highest paid player in the league. He was the ninth highest-paid player before signing this new extension and Rodgers is now the highest paid player in the NFL once again.
Rodgers Wants To Finish In Packer Green
Aaron Rodgers has said that he would love to be able to play into his 40s like Tom Brady. Rodgers is now 34 and entering his 14th season but he has only been a starter for 11 of those years having spent three seasons playing behind Brett Favre. Rodgers has said that he wants to finish his illustrious career in Green Bay. The veteran quarterback realizes that most players can't control how and when their careers end so he vows to play as well as he can for as long as he can.
Rodgers has been a relatively durable player throughout his career but he has sustained a pair of major injuries during the last 5 years. After he suffered a broken left clavicle in 2013, he returned to win the MVP in the following season. Last year, Rodgers broke his right clavicle and missed significant time. Can he bounce back like he did in 2014 is the question that Green Bay Packer fans have on their mind.