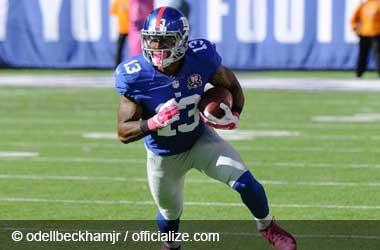 The New York Giants and Odell Beckham Jr. have come to an agreement that will keep their superstar wide receiver in a Giants uniform for the next 5 years.
Based on news reports in circulation, it is believed that the deal is worth a staggering $95 million with $65 million coming in as a guaranteed payment.
Beckham Jr. made headlines when he skipped out on team activities this past May. It was later reported that this absence was directly related to his hope of getting a new deal done.
Co-owner John Mara publicly stated in June that the team wanted Beckham Jr. in a Giants uniform till he retires from the sport. Beckham Jr., who has been selected to the Pro Bowl three times and was named the Offensive Rookie of the Year in 2014 was happy to stay on with the Giants.
After the deal was done, Beckham's teammate, Roger Lewis, posted a video of the new multi-millionaire dancing in the locker room.
congrats to my brudda couldn't be more proud been solid since day one helped me a lot on my journey… you deserve it…MONEY MONEY MONEY!!!! @OBJ_3 pic.twitter.com/cncsmI7IfB

— Roger Lewis (@OttoLewis_) August 27, 2018
Impressive Numbers
The deal was always contingent on both sides being able to make the finances work. Beckham Jr.'s cap hit was just $3.3 million in 2017 but that came to an end in October when he broke his ankle. He has played 43 games throughout his young career and he has put up some incredible numbers. His states show 288 catches, 35 touchdowns and 4,122 receiving yards including his 101 catches for 1,367 yards and 10 touchdowns in 2016.
During the four games that Beckham participated in during the 2017 NFL season, he reeled in 25 catches and 3 scores for a total of 302 yards. He was on pace for another stellar season until he got hurt. The young wide receiver is entering his prime and should be an impact player for years to come.
ESPN
Mixed Emotions And Thankful
Beckham Jr. gave thanks to Mr. Mara, Steve Tisch, Mr. Gettleman, and his coach along with veteran quarterback Eli Manning and all of his other teammates that helped him succeed. He also took the time to thank God and his family for standing by him throughout his journey.
In a statement, Beckham said
Honestly, I don't even know how to explain it. I don't know if it's a relief, I don't know – it's a combination of everything. You've worked all your life to get to this point and it's finally here