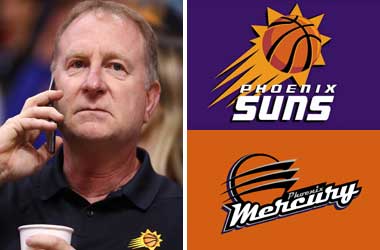 Summary
The NBA suspended Phoenix Sun's owner Robert Sarver for 12 months
The suspension was due to the toxic work culture and racist statements
Sarver who is under immense pressure will now sell the Suns and Phoenix Mercury
NBA's Phoenix Suns and WNBA's Phoenix Mercury owner Robert Sarver was handed a 12 months suspension and a $10 million fine by the NBA earlier this month.
The penalty was dished out after a lengthy investigation that found Sarver fostered a toxic workplace culture and used racist and derogatory comments over the years.
Cancel Culture Puts Pressure On Sarver
Sarver accepted his fine and suspension from the NBA and initially though that he would use the 12 month suspension to reflect on his mishandling and management of both the Suns and Mercury franchises and see if he could make amendments to rectify his errors going forward.
However multiple players in the NBA including Lebron James, Chris Paul and Draymond Green have come down hard on the NBA and Sarver as they felt the suspension and fine was very lenient for the NBA owner. A lot of NBA fans have also taken to social media to express their disappointment with the NBA letting Sarver get off so easily.
There was also pressure from inside the Phoenix Suns as vice chairman Jahm Najafi called for Sarver to give up his position as team owner. It also appears that NBA Commissioner Adam Silver was in favour of Sarver removing himself as team owner.
Sarver Decides To Sell Suns and Mercury Franchise's
Sarver released a statement this week and confirmed that 'cancel culture' had put enormous pressure on him and were not willing to give him an opportunity to make amends and rebuild the Suns and Mercury franchises. Sarver said that based on today's unforgiving climate, he realized that any good he could do for both franchises in the future was no longer possible due to the way he handled things in the past.
Sarver confirmed that he has decided to sell the Phoenix Suns and Phoenix Mercury franchises and was now seeking buyers. Sarver said he decided to remove himself from the equation so that the players, fans and fellow NBA and WNBA owners could continue to enjoy the game without any further controversy.
CJ McCollum, president for the NBA's Players Association said he appreciated Sarver's quick decision that was in the best interests of the sport.