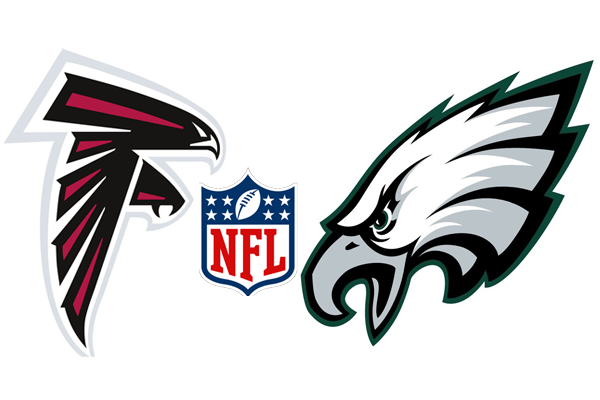 The Philadelphia Eagles will receive their Super Bowl rings before kickoff Thursday when they begin the 2018 NFL season against the Atlanta Falcons. Many hoped Carson Wentz would be back in action for the Eagles, but he still is not cleared for contact which means the Eagles will open the season with Super Bowl 53 hero Nick Foles as their starter. The Eagles are also dealing with multiple injuries and suspensions, including Alshon Jeffery and Nigel Bradham.
Meanwhile, the Falcons are looking to spoil the Eagles big night, hoping the offense is more in sync with 2nd year play caller Steve Sarkisian and looking to build on a strong couple of seasons on defense. This game opened up with the Eagles as -4.5 point favorites at home, but has since moved to -2.5, with the over/under set at 45.
Philadelphia Eagles Hopeful For Another Super Bowl Run
The Eagles look to start their Super Bowl defense with Carson Wentz still sidelined, and Nick Foles leading the show. Foles' 2017 postseason performance was legendary, but is a bit of an anomaly. Head Coach Doug Pederson game planned around Foles strengths extremely well with a combination of single read open window throws and RPO fundamentals, but expect him to regress in 2018 as teams catch up on how to defend him.
As far as talent goes, Foles is an average NFL QB at best, ranking somewhere in the 25-35 range. Foles will be more than capable as a stand in for Carson Wentz early this season, but do not expect the same high level of play we saw from him late last season.
The dynamic Darren Sproles' return will help a bit, however. Sproles missed almost the entire 2017 campaign with a torn ACL and broken arm, and will bolster the Eagles rushing and passing attack.
Look for the Eagles to run a lot of 12 personnel (1 running back, 2 tight ends) early in the season, as their receiving corp is decimated with injury. Tight Ends Zach Ertz and rookie Dallas Goedert will play major roles Thursday as the Eagles will attempt to exploit mismatches against the Falcons D.
The Eagles also hope Running Back Jay Ajayi will be good to go Thursday, as he has struggled with a foot injury this preseason. The Eagles will miss Wide Receiver Alshon Jeffery (shoulder) for at least the first game of the season, and hopes are not high for fellow Wideout Mack Hollins (groin) to play either. Starting Will Linebacker Nigel Bradham is also suspended for the first game of the season, and the Eagles will attempt to replace him with a committee approach.
Atlanta Falcons Look To Get Offense Going Again
The Falcons were one of the NFL's top offenses in 2016 with Kyle Shanahan calling plays, but last year was a bit of a let down with Steve Sarkisian taking over the Offensive Coordinator position, as Sarkisian tried to mesh his own offensive scheme with a lot of what made Shanahan's offense so successful.
The experiment resulted in red zone struggles and a down year from Julio Jones, who ended the 2017 season with only 3 touchdowns. With Sark now in his 2nd season, the Falcons look to bounce back offensively with continued high level play from Matt Ryan and a new injection of talent in rookie Wide Receiver Calvin Ridley.
A lot of Matt Ryan's 12 interceptions last year were a result of bad luck and drops by his receivers. I expect this to regress to the mean, and for Ryan to put up huge numbers this season. Look for Sarkisian to find more creative ways to get Julio Jones involved near the goal line, hopefully resulting in more production from the veteran Wideout.
The Falcons have also invested a lot of draft capital in the past few years into their defense, resulting in a young, hungry, and super athletic group that cannot be underestimated anymore. Deion Jones looked like a top 3 Off-Ball Linebacker last season, flying around the field and making plays in coverage, totaling 121 tackles, 8 pass break-ups, and 3 interceptions. Edge Rusher Vic Beasley hopes to regain his 2016 form, in which he tallied 16 sacks and 6 forced fumbles en route to falling just short of Defensive Player of the Year.
The Falcons remained relatively healthy throughout the preseason, and Linebacker Deion Jones and Safety Ricardo Allen were both full participants at practice Monday.
Matchups to Watch :
Falcons Edge Rushers vs. Eagles Tackles
Falcons Linebackers and Safeties vs. Eagles TE's
Eagles Linebackers vs. Falcons RB's
Eagles Defensive Tackles vs. Falcons Interior Offensive Line
Predictions
I expect the Falcons to play the reigning Super Bowl Champs very competitively Thursday night. This may not be a high scoring affair, similar to the January matchup that the Eagles won 15-10, as both teams have very strong defenses that match up fairly well with each other.
Look for the Eagles to attempt to take some of the load off of Nick Foles, with a run heavy approach early, mixing in some easy completions to get him rolling. Doug Pederson loves his play action passing game, and will look to get Nelson Agholor and Zach Ertz involved between the numbers along with a few deep shots to Free Agent signee Mike Wallace.
The Falcons hope their defensive front led by Grady Jarrett, Vic Beasley, and Takkarist McKinley can get pressure on Foles early leading to a turnover or two, which we saw a lot of from Foles this preseason. The Falcons will also look to exploit mismatches with their Running Backs in the passing game, taking advantage of Nigel Bradham's absence, and attempting to isolate their backs one-on-one with the Eagles back ups.
Both teams have stacked rosters top to bottom and this will be a tightly contested game all the way through. The game may be a bit sloppy, with limited preseason action from both teams starters, but I like the Falcons to cover, and possibly even win on the road here. Buy that half point, and take the Falcons +3 on Thursday Night!