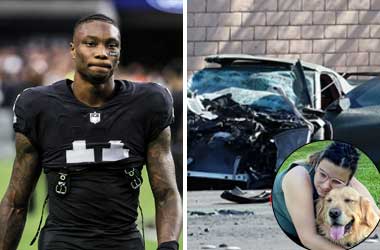 Summary:
The Raiders sacked Henry Ruggs III in Nov 2021 following a DUI fatality
Ruggs was sentenced on 09 Aug to a prison sentence ranging from 3-10 years
23 year old Tina Tintor and her dog burnt to death in their car after the crash
Las Vegas Raiders fans were shocked in late 2021 when the media broke the news that Henry Ruggs III who played for the raiders was involved in a fatal DUI related car accident.
Ruggs who joined the Raiders in 2020 played as a wide receiver and was looking forward to a promising career in the NFL before the fatal DUI.
Ruggs To Serve Between 3 to 10 Year Sentence
Ruggs was reported to have had twice the blood alcohol level on Nov 2 when he drove his Chevrolet Corvette and crashed into 23 year old Tina Tintor who was driving her Toyota RAV4. He had a blood alcohol level of 0.161 which is double the allowed alcohol level in Nevada.
The authorities state that Ruggs was going at 156 mph when he crashed into Tintor who had her labrador Max in her car. Reports claim that due to the crash, the RAV4 gas tank burst and started a fire that would eventually result in Tintor and Max being burned to death.
In a statement, Eric Bauman, Chief Deputy District Attorney said
It was a horrific case. What sticks with me the most about it … the crash didn't kill her. She could've walked away from the impact and lived a completely normal life. But she burned to death, and her dog burned to death, and she suffered. It haunts me. I drive past the memorial all the time and stop and just the thought of it never leaves my mind.
Jennifer Schwartz, Clark County District Court judge said it was one of the more tragic cases that she has presided over and sentenced Henry Ruggs III to a prison sentence between 3 to 10 years. He could be eligible for parole in under 3 years.
Ruggs Issues Apology To Tintor Family
Prior to the sentencing, the American Football star has been kept under house arrest and is subject to location and alcohol electronic monitoring devices.
He addressed the Tintor family in court for the first time since the fatal accident and apologized for the pain and suffering he caused, stating that his actions did not truly reflect who he was as a person!