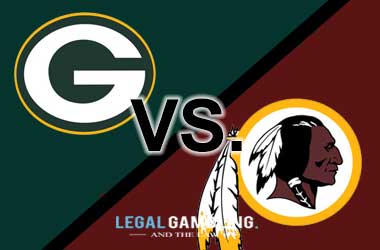 After Aaron Rodgers comeback magic in week 1, the Packers were involved in a tie against the Vikings in week 2. Kicker Mason Crosby missed a potential game winner from 52 in regulation, and Vikings rookie kicker Daniel Carlson missed 2 field goals in overtime.
The Redskins dominated the Cardinals in week 1, but after the Rams did the same this week, I am not putting much stock into that win. Against the Colts, Washington struggled offensively, losing 21-9.
Oddsmakers currently has the Packers as 3 point favourites on the road, and the consensus Over/Under according to OddsShark is 47.5
Green Bay Packers
What else can you say about Aaron Rodgers? The man is a magician, leading a 20 point comeback win against the Bears in week 1, and plays injured in week 2, carrying his team to a tie.
The Packers do him no favours as far as playcalling goes, they just let Rodgers drop back and go to work with vanilla schemes and repeated route combinations. He still spread the ball around like a point guard against the Vikings, completing passes to 8 different receivers, including 6 to tight end Jimmy Graham, 8 to wide receiver Davante Adams, and 6 to wide receiver Geronimo Allison.
The run game was surprisingly a bit more helpful, getting 59 yards out of Jamal Williams and 31 from converted wide receiver Ty Montgomery on a combined 21 carries. Against a stout Vikings defense, the Packers moved the ball with ease, especially later in the game, but struggled to finish drives in the endzone as Mason Crosby tied his career high in field goals with 5.
The defense is still a work in progress, allowing 480 yards of total offense, but did force a turnover on a Ha-Ha Clinton-Dix interception. The Packers special teams also chipped in, with Geronimo Allison blocking a punt and rookie cornerback Josh Jackson scooping it for a touchdown.
Injuries and Inactive Watch
CB Kevin King (groin) – left game Sunday, something to keep an eye on, QB Aaron Rodgers (knee) – sustained wk 1, played Sunday, didn't seem to be an issue, WR Davante Adams (shoulder)- played Sunday, something to keep an eye on
Washington Redskins
After the week 1 shellacking of the Cardinals, hopes were high for Washington going into a game against a young and questionably Colts defense. The results could not have been what they hoped for, as they only put up 9 points offensively on 3 Dustin Hopkins field goals.
Quarterback Alex Smith did all he could, completing 33 of 46 passes for 292 yards, but Washington's receivers dropped balls in key situations. This led to the Redskins' drives constantly stalling out, as they struggled on 3rd down throughout the game.
They got little help from their run game, with Adrian Peterson averaging less than 2 yards per carry, and wide receiver Jamison Crowder leading the team with 2 carries for 29 yards on jet sweeps. This comes after a league best 182 rushing yards in week 1.
Even though the Redskins defense picked off Andrew Luck twice, they couldn't get stops when it mattered. Washington was within 5 points halfway through the final quarter, but Andrew Luck was methodical on their final scoring drive, marching the Colts down the field for a touchdown to ice the game.
Injuries and Inactive Watch
S Troy Apke (hamstring)- DNP Sunday, might be out next week, G Brandon Scherff (knee)- left game Sunday, later returned, questionable, T Trent Williams (knee)- occurred late in the game Sunday, questionable
Matchups to Watch
Packers WRs vs Redskins Secondary
Packers OL vs Redskins Pass Rush
Redskins RBs/TEs vs Packers S/LBs
Redskins iOL vs Packers DTs
Predictions
Leading into the season, we were higher on the Redskins than most. We thought Alex Smith would mesh well in Jay Gruden's west coast attack, and rely on playmakers like Chris Thompson out of the backfield and Jordan Reed over the middle. Maybe week 1 was just a fluke, or maybe week 2 wasn't who these Redskins really are.
Either way, Washington is still a talented football team on both sides off the ball, featuring a capable offensive line and possibly the most underrated pass rush in the league. They have the ability to win this game up front on both sides of the ball, and if they can get more reliability out of their receivers in key situations, they will be a playoff team this season.
We still think Aaron Rodgers is too much to overcome for the Redskins defensively. His subtle pocket movements and rocket launcher of an arm will negate Washington's pass rush, and the Packers receiving corp should feast against a Redskins secondary that lacks playmakers outside of Josh Norman.
The Packers improved defense will do enough up front, and should prove a tough matchup for the Washington run blocking. If this game turns into a high scoring shootout, I just don't trust Alex Smith to put the ball in harms way to make any big time throws down the stretch. Gimme the fighting Aaron Rodgers' to cover, though I do think this game will be closer than most think, possibly coming down to the final drive or 2.
Final Pick: Packers (-3)