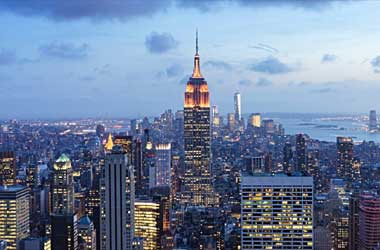 The sports betting market in America is big business and is getting a huge boost with the start of the 2021 NFL season.
However, New Yorkers are missing out on some of that action. This is because of the lack of mobile sports betting in the state. While it was approved as part of the state's budget in April, it is still months away from being implemented.
The main challenge right now is that state regulators will have to choose from six providers who put in bids. As of now, it does not appear that mobile sports betting will be rolled out in 2021 as the current push is to get mobile sports betting up and running before the Super Bowl which takes place on February 13, 2022.
Joseph Addabbo, Senate Racing Committee chairman is optimistic though and thinks that mobile sports betting will be up and running by the end of the year. At worst, the beginning of the year will see the state accepting its first bets.
Right now, there are only four places in the state that accepts sports betting. They are four casinos located in Albany, Finger Lakes, Southern Tier, and the Catskills. That limits the options of a lot of potential bettors in New York. With mobile sports betting up and running, many advocates see a big jump in bets.
Last month, the state released the names of the six providers who want to offer mobile sports betting services. They are an interesting mix that includes some big names in the industry as well as the sports apparel company Fanatics which has the rapper Jay-Z as a partner.
The decision on which providers will be getting mobile sports betting licenses won't be finalized until December 6.
Big Sports Betting Market
Mobile sports betting in New York has been delayed for a few years, though there has been a lot of interest to get it up and running. With the beginning of the COVID pandemic, this interest increased as the state of New York needed a lot of additional revenue. The potential $500 million a year in betting taxes from mobile sports betting is one reason why state legislators want to fast track the process.
New York is one of the biggest untapped markets for mobile sports betting in the United States. Even with a tax rate of 50 percent, betting operators will still be bringing in big money.