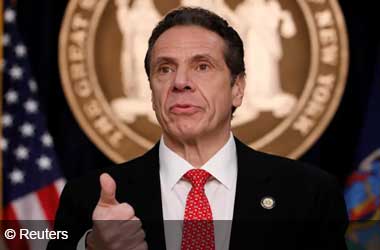 Mobile sports betting could soon be up and running in New York. Governor Andrew Cuomo this week announced plans to seek an operator that would offer mobile sports wagering to New Yorkers . He is set to release the complete details of his proposal during next week's State of the State address.
Cuomo's plans to legalize mobile sports wagering despite rejecting calls last March are not only aimed at obtaining much needed funds to rebuild from the COVID-19 pandemic; the Governor said the move would also enable New York to become the "largest sports wagering market" in the US, keeping millions of dollars in revenue "at home". New York is the fourth most populous US state and is home to a bustling sports culture.
Residents from New York would traditionally travel to neighboring New Jersey in order to register for mobile sports wagering accounts and place wagers there. Others are enticed to patronize black markets.
WKBW TV | Buffalo, NY
According to a recent survey, New York sports bettors account for almost 20% of NJ's sports wagering revenue. The absence of a mobile sports betting market in the Empire State means it's losing out on massive revenues year on year.
Back in November 2020, New Jersey was able to take $931.6 million in sports bets, smashing its previous record and surpassing that of Nevada. The $50.6 million in revenue generated by NJ sports books translated to $6.2 million in taxes for the state. The Garden State's year-to-date revenue also increased by 23% to $332.1 million.
State Should Get the Most Benefits
According to sports wagering consultant Sara Slane, New York has the potential to consistently attract over $1 billion in bets on a monthly basis if local residents are allowed to place wagers online without going elsewhere. However, unlike New Jersey and other states, Cuomo wants the industry to be operated in a similar manner to the state lottery.
Majority of states that allow sports betting operate the market via casinos. Because of this structure, casinos make a lot more money than the state, and Cuomo isn't a fan of this idea. He said New York should reap the benefits, not the casinos.
Under Cuomo's plan, New York could make an estimated $500 million in revenue, compared to just $50 million if the casinos are figured in.
With Cuomo's proposal, there will only be one sports operator that will offer mobile sports betting, and it will be selected and licensed by the state's gaming regulator. That entity will be required to partner with an existing licensed commercial casino in the state, and must have safeguards against potential addiction and abuses.
At present, three states are operating their sports betting market through their lotteries, namely, New Hampshire, Rhode Island and Oregon.