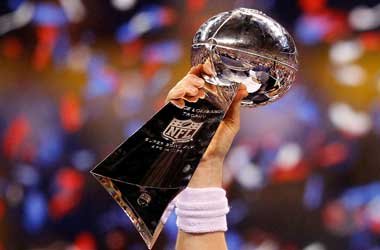 The new NFL season is here and hopefully, we do not have the uncertainty of Covid-19 hanging over the entire season like we did last year.
We eventually saw a famous face lift the Vince Lombardi Trophy, with Tom Brady picking up yet another Super Bowl title after his move to the Tampa Bay Buccaneers from the New England Patriots.
Brady will be looking to lift another title when we get to February 2022, but there are plenty of other teams and players who will fancy their chances of beating the Bucs.
There has been a lot of talk surrounding NFL players being vaccinated and the official rule is that players don't have to be vaccinated if they choose not to.
However, the NFL has said that only in extreme circumstances will games be postponed, so it is in the interests of the team to try and get as many of their players vaccinated as possible, especially key players.
Bet On NFL This Season With Our Best Sportsbooks
What Happened Last Year?
Last year we saw a clash between one of the greatest quarterbacks of all time and a young player hoping to emulate him. Tom Brady vs Patrick Mahomes, Tampa Bay Buccaneers vs Kansas City Chiefs and there was a clear winner.
Brady was calm, relaxed and composed while Mahomes seemed a little rushed and showed his lack of big-game experience. The Bucs and Tom Brady came out on top, winning the game 31-9 and leaving the Kansas City Chiefs without a touchdown in the entire game.
Super Bowl LVI Contenders
* Odds have been provided by GTBets and are accurate as of 02/09/2021
Kansas City Chiefs
Odds To Win: +500
The Chiefs are seemingly set for many more years when it comes to challenging for the Super Bowl. They will have learnt plenty from last season's defeat, and with a similar core coming in again for the new season, there are many reasons to believe they can go close again.
Offensively, no one touches the Chiefs and while they are not great defensively, Patrick Mahomes is more than capable of putting big points on the board and leading them to victories.
Tampa Bay Buccaneers
Odds To Win: +600
The big question in Tampa Bay this season is simply how durable is Tom Brady and can he keep going? Now 44-year-old, Brady will once again be asked to lead this team, which is good, but without Brady, they would likely not be considered big contenders for a repeat of last season.
That is how important number 12 is for the Bucs, if they get Brady firing again, they have a chance, if not, this could be a tough ask.
Buffalo Bills
Odds To Win: +1100
The Bills reached the Conference Championships last season, before losing out to Mahomes and the Chiefs, and the expectation is that they will be even better this time around. Quarterback Josh Allen took a big leap forward last year and was exceptional, he needs to prove that wasn't a one-off, and back it up with another strong season.
Stefon Diggs gives Allen one of the best receivers in the game to throw to, and with Emmanuel Sanders adding depth and Cole Beasley, the Bills have enough firepower to trouble anyone.
San Francisco 49ers
Odds To Win: +1500
The 49ers would love a healthy season, something they didn't get at all last year, which resulted in a poor campaign. If they get that, they have a stacked defensive line, one of the best in the league, and if that is combined with a good quarterback performance, this team can go far.
Jimmy Garoppolo and rookie Trey Lance will battle it out to be number one, it doesn't matter who it is really, as long as they perform. Look for the 49ers to run the ball well, with rookie Trey Sermon and Raheem Mostart sure to get plenty of carries.
If healthy, and if one quarterback shines, the 49ers should be knocking on the door this season.
Outside: Cleveland Browns
Odds To Win: +1400
If you are looking for the most complete team in the NFL, it could well be the Cleveland Browns. They have a strong quarterback, elite receivers, excellent running game and this summer they have added a high-end defensive line to their game. There may be no one better in terms of how well-rounded a team is.
The key for Cleveland is the confidence to win and go far, hopefully, they've learnt from their Divisional round playoff exit last season. Get that right, get everyone in the locker room believing and this is certainly a team to watch this season.
With Baker Mayfield leading them, Odell Beckham Jr catching balls and Nick Chubb doing a lot of the running, this team can put points on the board. If their summer moves work out, they've not got the players to stop their opponents from scoring too.
Our Super Bowl Prediction:
In terms of the leading contenders then there is no doubt that the Kansas City Chiefs have fewer questions to answer than the rest, and for that reason, they deserve to be at the top of the betting.
If they have learnt from last season, and keep their high level of play going, this team is going to be very difficult to beat throughout the season.
Those looking for an outsider to consider should look at the Cleveland Browns, who have put together a string of impressive defensive signings this summer in a bid to shore up and stop conceding touchdowns. If that works, they are sure to get involved, given how much offensive talent they can put on the field.
The Kansas City Chiefs are our main pick, but elsewhere we also like the Cleveland Browns to go well this season, and they are certainly an outsider to watch.