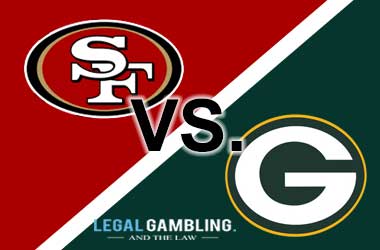 Following what may be the best primetime game to date this season, we get what feels like it could be a blowout Monday night. The Packers lead the all time series 31-27-1, but have lost 4 of the last 5.
The 49ers lost to division rivals in the Cardinals 28-18 last week. In week 3, the 49ers lost 38-27 to the Chiefs, and lost 29-27 to the Chargers in week 4. The Packers are coming off a loss to division rival Detroit 31-23 last week. They lost 31-17 to the Redskins in week 3, and beat the Buffalo Bills 22-0 in week 4.
Oddsmakers currently hvave the Packers as 9.5 point favourites, with an O/U total of 46.5.
San Francisco 49ers
Since losing Jimmy Garoppolo, the 9ers just look lost. Nothing against C.J. Beathard, whom I think is a fine backup, but they don't have the talent to support him either. Beathard is averaging a whole yard less than Jimmy G did per attempt (7.1 vs. 8.1), tallying 647 yards, 4 TDs, and 4 INTs on 57/91 passing.
San Francisco lacks a true threat on the outside, and that shows in the box score. Tight End George Kittle continues to build off his strong rookie showing, leading the team with 23 catches for 399 yards and a TD. Matt Breida has really impressed in limited action as he's struggled with injuries, but has 369 rushing yards on 49 carries.
San Fran struggled to get pressure against a weak Arizona O line, totaling just 12 pressures and a single sack. After spending multiple 1st round picks on the defensive line, this team still lacks a true disruptor. DeForest Buckner is a solid player, but he is not near consistent enough to warrant that title. The secondary lacks playmakers as well, and has just 1 interception on the year. Ahkello Witherspoon has been targeted more than any other defender on the 49ers, allowing 19 catches on 31 targets for 215 yards and 4 touchdowns.
Injuries and Inactive Watch
CB Richard Sherman (calf) – questionable, C Weston Richburg (knee) – questionable, WR Dante Pettis (knee) – out, WR Pierre Garcon (shoulder) – questionable
Green Bay Packers
The story against Detroit was undoubtedly the kicking situation as Mason Crosby left 10 points on the field, but the Packers had no issue moving the ball against Detroit. Aaron Rodgers was wheeling and dealing to the tune of 32/52 passing for 442 yards and 3 touchdowns. Davante Adams continues to be his go-to guy, having a huge game tallying 9 catches for 140 yards and a TD.
Because they fell behind early, the run game was a nonfactor, but Aaron Jones has impressed in the time since his return from suspension, totaling 105 yards and a TD on 18 carries. The offensive line had a fairly easy matchup, and dominated allowing just 4 pressures.
Kyler Fackrell had a bit of a fluky game, with 3 sacks on 3 pressures, but it is nice to see some production off the edge for Green Bay. They sacked Matt Stafford 9 times, with 7 different players getting involved. The rookie duo of Josh Jackson and Jaire Alexander are stepping up due to injuries in the Packers secondary, and have impressed. Alexander had an interception off Stafford, and allowed just 1 catch on 7 targets, while Jackson allowed 4 catches on 7 targets for just 41 yards and broke up 2 passes.
Injuries and Inactive Watch
WR Randall Cobb (hamstring) – questionable, WR Geronimo Allison (hamstring) – questionable, CB Jaire Alexander (groin) – questionable
Predictions
We know what you're thinking, 10 point spread, better coach as the underdog…I just don't know how the 49ers have a prayer in this game. If Matt Breida is out, they might be in serious trouble. They have not had many explosive plays this season, and I definitely don't trust C.J. Beathard to dissect a defense up and down the field, especially against 2 young ballhawking corners. The Packers don't necessarily have the pass rush to really push Beathard off his spot, but the coverage should be good enough on the back end to where they may get few coverage sacks.
Aaron Rodgers man, it doesn't matter who you have or what you throw at him…he still dominates. San Francisco just does not have the pass rush or coverage talent to stifle him. The Packers have the ability to jump out to a double digit lead and never look back, especially with the continued emergence of Aaron Jones in the backfield. 9.5 points is a hell of a lot to cover, especially in primetime, but on paper this game just looks like bad news for the 9ers.
Final Pick: Packers (-9.5)