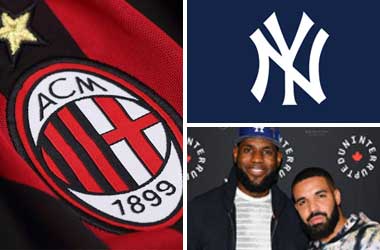 Summary
RedBird Capital Partners acquires AC Milan for $1.2 billion
New York Yankees, Drake, and LeBron James become minority owners
AC Milan says new ownership will help boost popularity of its brand
The New York Yankees will acquire a 10% stake in Italian soccer team AC Milan.
The Yankees are also partial stakeholders in the New York City FC. NBA All Star LeBron James who recently signed a new multi-million dollar contract and celebrity rapper Drake have also become minority investors in Milan through Los Angeles-based fund Main Street Advisors (MSA).
Yankees Global Enterprises president Randy Levine was optimistic about the deal. Levine said that the Yankees' popularity would benefit AC Milan and boost its revenue. The Yankees are also a stakeholder in the City Football Group-owned New York City team, Legends Hospitality, and YES Network. Meanwhile, LeBron James and Drake will act as passive investors in the club under MSA.
Milan is now owned by investment firm RedBird Capital Partners, after a $1.2 billion deal that was inked on 31 August. Previously, RedBird founder Gerry Cardinale had announced in June that the firm intended to buy the club from its owner, Elliott Management. Cardinale said the Yankees deal would help broaden Milan's reach among sports fans.
Levine said the deal was a result of the team's 25-year-old association with RedBird. The Steinbrenners were one of the earliest investors in RedBird. The Yankees were also involved with Cardinale while working on YES Network and the Yankee Stadium. The team is also signing another marketing deal with Milan that includes cross merchandising between the two franchises and broadcasting game reruns on the YES Network.
Besides Milan, RedBird owns a stake in Liverpool FC parent Fenway Sports Group. However, as the Champions League does not allow two clubs with the same ownership to play, the UEFA will take a call on RedBird's ability to call the shots at Liverpool. Milan has changed hands several times in the last five years. The recent deal makes RedBird the fourth owner of the club.
Inter's Marotta Appreciates Milan Ownership Deal
Inter Milan CEO Giuseppe Marotta was appreciative of the deal. He noted that American ownership was based on a business model that emphasized economic and financial stability. Milan and Inter share the San Siro stadium and are foreign-owned.
Besides the American investors, Miami FC owner Riccardo Silva and his brother Saverio Silva have also invested in the deal. The change in Milan's ownership will not impact the club's technical area director Paolo Maldini and coach Stefano Pioli.