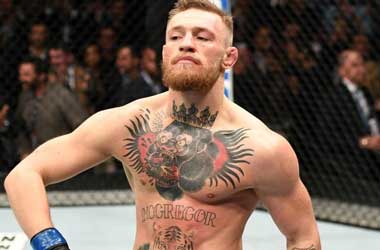 The Ultimate Fighting Championship (UFC) put on a spectacular night of fights as its UFC229 card delivered at the T-Mobile Arena in Las Vegas.
There were a number of spectacular fights that thrilled fans but it was the Main Event between Conor McGregor and Khabib Nurmagomedov that stole the show.
Khabib put on a spectacular performance and submitted 'The Notorious' one in round 4 via a neck crank.
However, his moment of glory was stained when he lost control of himself, jumped the Octagon and launched a flying leap at McGregor's corner – in particular the loud mouthed Dillon Danis.
TMZSports
McGregor Threw The First Punch
What happened then was a disgrace to the sport as Khabib had to be restrained as the fight spilled over into the stands. Khabib's team then proceeded to jump into the Octagon and lay into McGregor for a few seconds. The public brawl was quickly contained as there was a lot of security present at the event as many expected something of this nature to happen.
MMA analysts and fighters have condemned the public brawl and UFC President Dana White was very critical of Khabib and his team. White confirmed that the Nevada Athletic Commission (NAC) has suspended his purse of $2 million pending an investigation. White also came down hard on Khabib and said he expected the NAC to hand out a stiff penalty to Khabib and if they don't, the UFC will.
What Dana White failed to point out or see was that Conor McGregor was the one who threw the first punch attaching Khabib's corner. There is clear footage of the incident doing the rounds which show McGregor punching one of the corner men and that prompted other members of Khabib's corner to jump the Octagon and have a go at McGregor.
White Continues To Give McGregor Special Treatment
The UFC President has continued to be partial to McGregor as it is a well-known fact that McGregor is the one who brings in the most pay-per-view sales for the UFC. His bus attack in New York was used as video footage to promote the fight and the UFC never punished Conor for his actions even though White called it a disgrace at the time.
UFC fans are also upset that White would be so impartial to McGregor and one user lashed out on social media saying
Dana White's head is so far up McGregor's ass that he could wear his hat!
White took up for McGregor during the post-fight press conference and refused to admit that McGregor's prior behaviour contributed to this unsavoury incident.