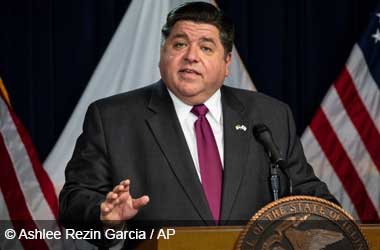 Betting operators in Illinois where initially unhappy when Governor J.B. Pritzker announced that he was going to close the online betting registration process on September 17, 2020. Typically, bettors in Illinois are required to go in person to a casino and register for a betting account.
However due to the COVID-19 pandemic which shutdown the casino industry in the state, Illinois decided to make an exception and allow online betting registration for a limited time only. The sportsbooks were happy as the lockdown resulted in a number of players opening up new accounts from the comfort of their home.
Sports betting operators initially tried to get the Governor to extend the online registration deadline but things did not look very positive.
However, the Governor had a sudden change of heart and decided to extend the online registration deadline for another 30 days. This means that bettors in Illinois will be able to sign-up for betting accounts at licensed online sportsbooks in the state.
Illinois currently has five active sportsbooks and there is potential for more sportsbooks to go live in the coming months. Betting operators will welcome this extended deadline and remain hopeful that the deadline will continue to be extended post October 17.
Financial Reasons For Extending Deadline
There are a few reasons as to why Gov. Pritzker made the decision to extend the online betting registration deadline. One of the main reasons is financial as the Governor was made aware of the numbers that online betting had generated in the state.
The Illinois Gaming Board published its July betting revenue numbers which showed that Illinois gambling industry brought in a total of $51.4 million in revenue. As much as $47.7 million of these revenues was generated from online betting portals.
Illinois like most states in America is battling economic woes brought on by the COVID-19 pandemic. Most of the mainstream industries are struggling as a number of businesses have shut down and many are struggling to survive. Illinois needs to continue to generate revenues and the state government has to ensure that it has enough funds in the tank for the coming months.
With the online betting market generating over $47 million in revenue, it makes a lot of financial sense for the state government to continue to be flexible with their online gambling regulations or risk losing out on millions.