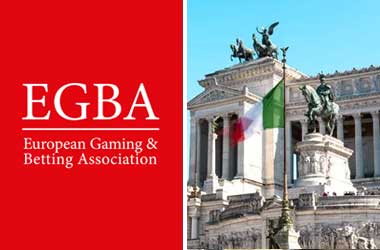 Summary
Italian players spend an estimated €25 billion per year in the land-based and online black market.
Italy loses nearly €1 billion in online gross gaming revenue every year to black market websites.
The Italian government must reorganize existing gambling laws, says EGBA.
The European Gaming and Betting Association (EGBA), a trade association representing European online gambling operators, estimates that Italy loses nearly €1 billion in online gross gambling revenue annually to black market websites.
The amount lost is equal to the combined online gambling revenue of eight other EU states with regulated online gambling according to the EGBA.
Italians Spend Estimated €25 Billion in Black Market
The trade body, which is observing the impact of black market activities on the Italian market, revealed its estimate in response to a recent investigation from La Gazzetta Dello Sport, an Italian daily newspaper focusing on sports coverage.
The newspaper reported that Italians wager an estimated €25 billion in the online and land-based black market every year, and that €18.5 billion of this estimated figure accounts for bets placed on unlicensed gambling sites.
The Customs and Monopolies Agency (ADM) of Italy, which governs gambling in the country, took a blocking order for over 9,800 unlicensed gambling sites in 2023 alone. The figure indicates the increase in black market websites targeting Italian players.
Government to Re-organize Existing Gambling Laws
The Parliament has approved the first phase of the changes to existing gambling laws, which focus on resolving licensing disputes, improving consumer protection at retail venues, and harmonizing tax duties.
However, the government has not revealed any intention of rectifying the Dignity Decree of 2018, which imposes a blanket ban on advertising gambling services across the media and sports sponsorships.
The EGBA warns that the decree is a dangerous restriction that encourages black market gambling activities in Italy, while preventing licensed operators from promoting their licensed gambling services.
EGBA Secretary-General Maarten Haijer says the trade association is concerned about the significant size of the online black market in Italy, which is not surprising considering that Italy's advertising laws for licensed gambling operators are among the strictest in Europe.
Haijer also says that the advertising ban in Italy favors the black market and makes the government's enforcement actions against black market operators inadequate. He calls for a revision of gambling advertisement laws to keep Italian players informed about licensed gambling options in their country.