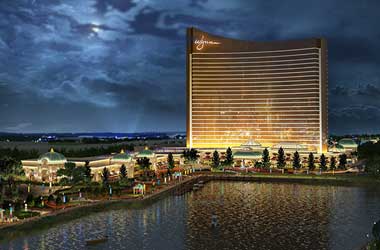 There were rumours floating around that the new $2.6 billion Encore Boston Harbor casino from Wynn Resorts was going to be sold to MGM Resorts.
It wasn't exactly a rumour as both casino operators confirmed that they were in preliminary talks and Wynn Resorts decided to push back the opening date of their first casino in the state of Massachusetts.
However the sale is now off the table as the talks fell through and Wynn Resorts has confirmed that it will now stick to its original opening date of June 23.
No clear reason was given as to why Wynn Resorts and MGM Resorts decided to drop the sale.
While no official reason was given, one can surmise that one of the reasons MGM Resorts decided to pull out was due to the fact that it already has a casino license to run its MGM Springfield casino resort. Gaming regulations in Massachusetts allow a gaming operator to have only one casino license.
CBS Boston
MGM Resorts would have had to handover ownership of MGM Springfield and then work with Wynn Resorts to obtain a license transfer which is a long and lengthy process. They would then need to get the approval of the Massachusetts Gaming Commission (MGC) which would undertake a detailed review of the license transfer.
In a statement, Cathy Judd-Stein, MGC Chairwoman said
Like all matters that come before the commission and as is required of us by law, any such request would be reviewed fairly and objectively, based on its merits, and with the strict enforcement of all applicable laws to protect the best interests of the commonwealth, including our host and surrounding communities.
Grand Opening Set For June 4
Now that the sale talks are off the table, Wynn Resorts prepares for the grand opening of its Encore Boston Harbor casino on June 23 at 10 am. The casino operator expects a huge turnout on day 1 which is a Sunday.
Encore Boston Harbor casino will do a dry run and operate for three days but only for eight hours to test and see if all facilities and services are running smoothly. The casino operator will also have to test its casino systems and satisfy the MGC before officially opening its doors to the public.
Robert DeSalvio, President of the Encore Boston Harbor casino is very positive that the public will love the new casino and be pleasantly surprised with what they get to see!