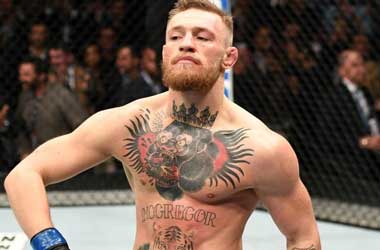 Conor McGregor has not fought in the UFC since Nov 2016 and as a result he has been stripped of both his UFC featherweight and lightweight titles. UFC223 which takes place in Brooklyn, New York on Saturday will see a main event between Khabib Nurmagomedov vs. Max Holloway for the official UFC lightweight belt.
There were many who expected McGregor to show up for the fights on Saturday night but to everyone's surprise he showed up early and with a gang of 20 plus friends and fighters.
They stormed the Barclay Center after UFC 223 media day was finished and went on a rampage attacking the UFC bus which the fighters were leaving in.
The Notorious teamed up with friend and fellow UFC fighter Artem Lobov who is supposed to fight on Saturday night and caused serious damage to property and also injured UFC lightweight fighter Michael Chiesa who suffered lacerations and damage to his face. McGregor and his crew threw chairs at the bus, damaged the glass windows and also took steel railings and attacked the bus. The incident was upsetting to all UFC fighters present in the bus including Rose Namajunas who fights in the co-Main Event on Saturday night. UFC President Dana White condemned McGregor's actions, a warrant was issued for his arrest. Connor McGregor turned himself in at a local police station and has since been charged with 3 counts of Assault and on of criminal mischief.
TMZSports
UFC Bans McGregor From Showing Up On Saturday Night
Dana White was very critical of McGregor's actions saying that nothing like this has ever happened in the history of the UFC. The Notorious wanted to go after Dagestan fighter Khabib Nurmagomedov who usually has around 10 of his Dagestan fighters hanging around him.
McGregor showing up with a crew of 20 indicates that he wanted to send a message to Khabib and his team.
White said that if McGregor really wanted to fight Khabib, he could have done it legally in the Octagon by signing a fight agreement. The UFC has removed Artem Lobov from the card and cancelled the fight between Michael Chiesa and Anthony Pettis due to Chiesa's injuries.
In a statement, the UFC said
The organization deems today's disruption completely unacceptable and is currently working on the consequences that will follow. Immediately, Lobov has been removed from this weekend's card and individuals involved in the incident are not welcome at tomorrow's ceremonial weigh-in or Saturday's event at Barclays Center