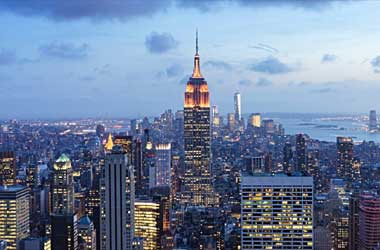 The sports betting market in the United States is growing at a rapid pace as more states legalised sports betting and start accepting bets.
New York has one of the biggest sports betting markets in the country but betting operators are not able to leverage the full potential of the market as they are only allowed to offer in person betting.
New Yorkers who want to place sports bets currently have to go upstate, register in person and then place their bets. It is time consuming and a tedious process which does no really help betting operators in the state who are pushing for mobile sports betting to be legalized.
Sen. Joseph Addabbo Jr. is one of those legislators who believes that New York needs to legalise mobile betting and follow the pattern of other states which have legalised sports betting. The neighbouring state of New Jersey is a prime example as mobile sports betting is responsible for generating more than 80 percent of all sports betting revenue.
WGRZ-TV
New Yorkers have the choice of getting into their car and driving upstate or heading across the border to New Jersey and placing bets from their mobile phones. Most New Yorkers prefer the second option as it is a lot easier and allows them to turn their mobile phones into a mini sportsbook.
Governor Andrew Cuomo is not in favour of mobile sports betting as he believes it breaches the constitution. His views are not supported by a number of legislators who believe that New York is losing a lot of sports betting revenue to New Jersey.
In a statement, Sen. Joseph Addabbo Jr said
It's not a question of if; it's when. It's going to happen. People want to bet in New York. They don't want to get in the car and drive two hours upstate, and they'd rather not get in the car and go over the bridge to New Jersey, but they're doing that now.
New York Must Allow In-Stadium Betting
Legislators in favour of mobile sports betting are looking at pushing new bills early next year that will also allow for in-stadium betting. New York has some of the most popular sporting arenas in the world including the iconic Madison Square Garden (MSG), which recently held UFC 244.
In-stadium betting will allow fans watching the game to place direct bets from their mobile phones while the game is in play, making things a lot more exciting for them, the sports books and ultimately the state of New York.