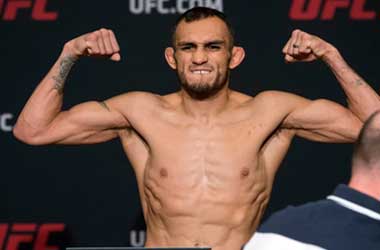 UFC President Dana White announced on April 1 that the Main Event between Tony Ferguson and Khabib Nurmagomedov scheduled for April 7 at UFC223 was cancelled because Tony Ferguson sustained an injury.
MMA fans were in disbelief and thought it was another April Fool's prank being played as Ferguson and Nurmagomedov have been scheduled to fight three times so far (2015, 2016, 2017) and all three fights were cancelled.
The UFC quickly confirmed that this was not an April Fool's prank and the injury to Ferguson was real.
Tony Ferguson confirmed his injury via a post on social media which says he sustained a possible ACL tear and might have to undergo surgery to recover. The UFC has also confirmed that they will strip Tony Ferguson of his interim lightweight championship.

#UFC223 #TonyFergusonMMA SnapJitsu™️ #SnapDownCity 🙏😎 🇺🇸🏆🇲🇽 pic.twitter.com/Rf4PWg4QXT

— Tony Ferguson (@TonyFergusonXT) April 2, 2018
Max Holloway Steps In To Fight Khabib
With less than a week left for UFC 223, matchmakers have managed to find Khabib an opponent. UFC featherweight champion Max Holloway will go up a weightclass and look to do a Conor McGregor and hold two belts at the same time. White has confirmed that the fight between Holloway and Khabib Nurmagomedov will be for the official UFC lightweight championship. Sports betting websites now have the fight between Khabib and Holloway at 5-1 in favour of Khabib.
MMA journalists and fans wanted to know if the UFC offered the current UFC lightweight champion Conor McGregor the opportunity to step in and defend his belt against Khabib. However, White said that the fight was not offered to McGregor as he would struggle to make the weight on such short notice and also because the UFC preferred more time to promote a fight involving Conor McGregor.
Khabib Sends Message To Fergusson
Khabib pulled out of the last fight due to his kidneys failing him during a weight cut and Fergusson has been all over Khabib for not being professional and making weight. This time around with Ferguson pulling out, Khabib decided to take the higher road and sent a strong message to 'El Cucuy'.