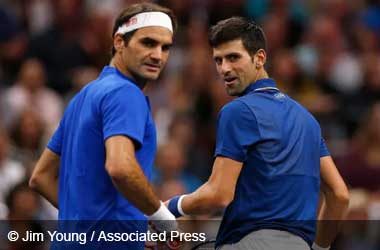 Roger Federer has made his way to Melbourne to get settled and prepare for the 2019 Australian Open which will take place from Jan 14 to 27 at Melbourne Park.
Federer should be the favourite going into the Australian Open as he has won back-to-back championships in 2017 and 2018 but he isn't the favourite according to the seeding as well as his own opinion.
Federer believes that he is one among the top 10 players who has a chance of winning this year's Australian Open but does not rank himself as number one. This is surprising as it is not the championship mindset that one would expect from Federer going into the first grand-slam of the year.
Novak Djokovic is the number one player in the world and is also the first seed at the 2019 Australian Open, so it is not surprising that Federer has him as the favorite. It could also be a strategy for Federer to deflect the pressure and expectation from himself and put it on Djokovic.
In a statement, Federer said
No doubt about it, Novak is the favourite. The guy had a super, super strong last five or six months of the year. With his class, once he gets his groove back, he is hard to beat. In terms of who is going to win it, we know who the usual suspects are and I am part of that bunch.
Federer has had a great run at the Australian Open but so has Djokovic who has won six Australian Open's. His last two wins were back-to-back championship wins in 2015 and 2016.
Australian Open TV
Last Australian Open For Federer?
Roger Federer could very well be playing his last Australian Open as the Swiss great will be 38 next year. If Federer goes on to win the Australian Open or reach the semi-finals, it could very well spur him on to continue to keep playing.
However, an early exit at the Melbourne Cup could get the critics talking once again about Federer retiring in 2019. There is nothing left for the Swiss great to accomplish as he will go down into the record books as one of the greatest to have ever played the game with 20 Grand Slams to his name.
The luck of the draw will play a major factor in determining if Federer can keep his winning streak alive at the 2019 Australian Open.