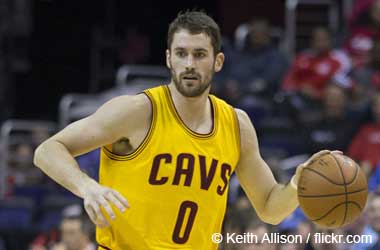 The Cleveland Cavaliers have started the last four seasons as one of the top two teams expected to win the NBA Championships. Their core team has since gone their separate ways and the Cavs will start the 2018-2019 season with a lot to prove. Cavs Management have decided to extend All Star Kevin Love's contract who decided to not pursue free agency but stay committed to the plan of rebuilding a new core team.
The Cavaliers had a good team two seasons ago with LeBron James and Kyrie Irving leading the way for the Cavs. However, Irving left after the 2016-2017 season and that put a lot of pressure on LeBron James to carry the team. King James decided to move on and will now represent the L.A Lakers during the 2018-2019 season.
Kevin Love and his agent Jeff Schwartz got together with Cavs general manager Koby Altman and worked out a four year contract estimated to be around $120 million for the 5 Time All Star to stay on with the Cleveland Cavaliers.
Love will be paid $28.9 million for the 2019-2020 season, $31.3 million for the 2020-2021 season, another $31.3 million for the 2021-2022 season and another $28.8 million for the 2022-2023 season should he stay with the Cavs for all four years. There were some NBA analysts who were surprised that Love chose to stay on with the Cavs and take an offer that was $8 million less than max salary cap he could have pushed for.
ESPN
Love Happy To Remain With The Cavs
Kevin Love was happy with the four year contract and is looking forward to the re-building process that will be centred around him. The Cavaliers were also happy to retain him and heaped praise on his character and talent that will be critical to the rebuilding process.
In a statement, Love said
When I got traded here a few years back, I was committed to being here long term and I was committed to our culture, excellence in playing the game of basketball. And I think who we have on our team and who we have moving forward really reflects that.
Love played just 59 games last season for the Cavs which was the least amount of games he played since the 2012-2013 season. Now with James out of the picture, Love will most likely get more game time and will have more opportunity to shine for the Cavs.