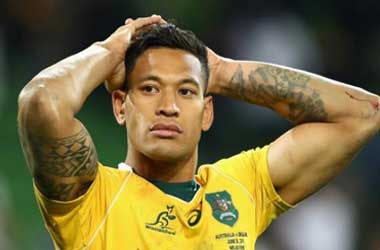 Israel Folau, a former Wallabies and Waratahs player, was fired by Rugby Australia in April after his virulently homophobic statements on his Instagram feed were made public.
Earlier this week, Folau lodged his updated statement to the Federal Circuit Court, upping his compensation claim to $14 million from $10 million for unlawful dismissal.
A key component of Folau's updated statement is his contention that, by being fired, he was being deprived of the 'possible' opportunity of captaining the Australian rugby team at the 2019 Rugby World Cup which recently concluded in Japan.
If this is true, then Folau's firing will have a larger impact on his life and earning potential.
The Australian public reacted to Folau's updated statement with the expected mixture of disbelief and vitriol. Many questioned Folau's assertion that he had a reasonable chance of captaining the Wallabies, as Michael Hooper was the clear consensus choice for captain in the team, reportedly earning votes from both the coach of the team, as well as his peers.
Sky News Australia
Australians took to social media and mocked Folau's reliance on a specific understanding of the words "possible" without recourse to the reality that he was, at best, going to captain the Wallabies only if at least six senior players were no longer in the team. The 30 year old former Australian rugby player has been labelled as greedy and a hypocrite.
However, there seems to be a lot more at play in the new compensation claim filed by Folau and his legal team.
Folau Using A Legal Smokescreen?
The clear dissonance between Folau's contentions regarding his potential for captaining the Wallabies and the perceptions of both rugby experts and commentators, as well as the general Australian public, has led some observers to believe that the increased compensation claim is a legal strategy formulated by Folau's lawyers to avoid showing their hand in the upcoming mediation next week with Rugby Australia CEO Raelene Castle.
Instead of attacking the dismissal of Folau based on religious freedom and anti-discrimination laws, Folau's lawyers may try to shift toward a procedural case, attacking the independent tribunal hearing Folau received as being biased due to one member's association with the LGBT community. As the hearing served as basis for Rugby Australia to dismiss Folau, attacking the hearing's legitimacy may force Rugby Australia to settle before the case debuts in court.