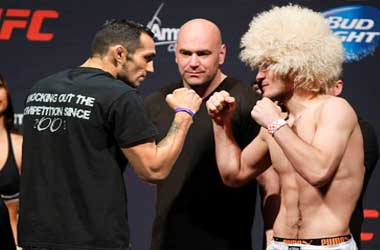 UFC lightheavyweight champion Khabib Nurmagomedov has admitted on multiple occasions that his biggest test in the Octagon will be against the number one contender in Tony Ferguson.
The two have been scheduled to fight on four different occasions but the fight has fallen through on all four occasions including the most recent at UFC223.
This time around MMA fans are eager to see two of the best fighters on the planet test themselves at UFC249 which will take place on April 19 at the Barclays Center in New York. However, fight fans will get a preview of the two fighters as they are set to attend a presser in Las Vegas on March 6.
The UFC has confirmed that a press conference featuring Khabib and Ferguson will take place before the UFC248 weigh-ins. The press conference will be held at the T-Mobile Arena in Las Vegas which is going to be packed with die hard MMA fans.
Sinjun Balabanoff
Khabib Nurmagomedov has turned into one of the biggest MMA in the world especially after he defeated Conor McGregor. While there have been a lot of rumours circulating of a potential rematch with McGregor and Khabib getting paid $100 million, the Dagestan superstar does not seem very interested in McGregor anymore.
His current focus is solely on Tony 'El Cucuy' Ferguson who is one of the most unorthodox fighters in the UFC and a fighter who is on a 12 fight win streak. The two fighters have had numerous face-offs in the past and all of them have been very interesting.
One can expect barbs to be thrown at each other during the press conference but it will definitely not be like a Conor McGregor presser. Both Khabib and Ferguson have said in the past they prefer to let their fighting do the talking. Make sure you come back to visit one of our exclusive US online sportsbooks for the best odds available.
McGregor Still Waiting For Khabib
Conor McGregor has told UFC President Dana White that he does not believe Khabib and Ferguson will fight as he expects the fight to fall through against for the fifth time. There is no indication as of now from the UFC if McGregor will be a back-up in case one of the fighters gets injured.
McGregor who fought in Jan 2020 is yet to confirm who he wants to fight next. His ideal fight will be taking on Khabib in Russia or in Ireland but Khabib does not seem too interested in fighting McGregor again!