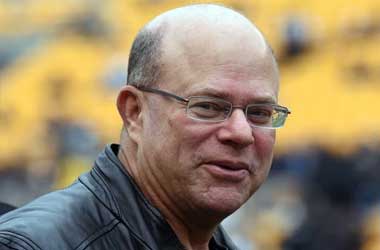 American billionaire investor David Tepper has reportedly finalised the terms to acquire the Carolina Panthers from current owner Jerry Richardson.
Tepper's $2.275 billion bid for the National Football League (NFL) franchise was the all-time highest in the history of US pro sports.
The hedge fund manager and philanthropist already has a 5% stake in the NFL's Pittsburg Steelers. Forbes has projected Tepper's net worth at $11 billion.
The North Carolina-based franchise went on the market following the end of the 2017-18 season. Investor Ben Navarro who has a lot of connections to the team reportedly offered $2.6 billion for the two-time AFC Conference champions.
Several other NFL team owners preferred Tepper's bid due to the fact that his bid not include other investors and he already has a stake with his hometown team Pittsburgh Steelers after passing an NFL vetting process.
The Panthers' sale to Tepper is expected to be approved next week at the league's Spring League Meeting in Atlanta. Tepper said in a statement he is "thrilled" to be picked as the Panthers' next owner and promised to continue the NFL franchise's success on the football field and in the Charlotte community. The 60-year-old Tepper will be one of the wealthiest NFL owners.
Tepper reportedly has plans to keep the NFL team in Charlotte, and retain its head coach Ron Rivera and general manager Marty Hurney. It is common however for new owners of pro sports teams to make big changes to the franchise's front office.
Bloomberg TV Markets and Finance
Richardson Bids Goodbye
Jerry Richardson is a former football player who played for the Baltimore Colts during the 1959 NFL season. He became the founding owner of the North Carolina team and is honored by a statue standing outside the Panthers' Bank of America Stadium. Richardson suddenly announced in December 2017 that he wanted to sell the Carolina Panthers.
It followed an NFL investigation about allegations of workplace misconduct reported by Sports Illustrated. Richardson described the experience of owning the NFL team as fulfilling and thanked past and present coaches, players, and staff for their efforts throughout the years.
In a statement, Richardson said
I look forward to turning the stewardship of the Panthers over to David Tepper. I have enjoyed getting to know him in this process and am confident that he will provide the organization with great leadership in both its football and community initiatives. I wish David and his family the very best as they enter this exciting new phase of their lives