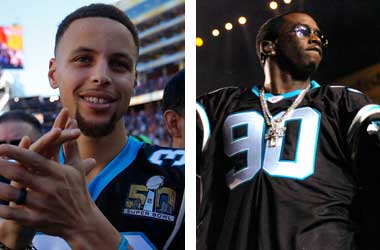 NBA superstar Stephen Curry recently stated that he is definitely interested in acquiring an ownership stake in his hometown NFL team the Carolina Panthers. Curry states that he has been a fan of the team since he was 7 years old, which was the year the team was established in Charlotte.
The Golden State Warriors star player is very keen on getting involved with the Carolina Panthers and says it would be a great honor to be able to be a part of the NFL franchise. He has the opportunity to fulfill his dream as Panthers owner Jerry Richardson recently announced that he was looking at selling the Panthers. Richardson has had to battle allegations of racial discrimination and sexual misconduct in the workplace and is currently under investigation.
Steph Curry has won the NBA Most Valuable Player (MVP) award twice so far and continues to be a key player for the Warriors. He recently signed a five year contract extension with the Warriors that fetched him a cool $201 million and he remains committed to being with the Golden State Warriors and helping them win their third NBA Championship this season.
TMZSports
He has made it clear that should he be able to acquire an ownership stake in the Carolina Panthers, he would not let it interfere with his responsibilities and commitment to the Warriors. Curry does not intend to be actively involved with the Panthers flying around the country and being part of weekly meetings. It would take a nice sum of money for Curry to acquire the Carolina Panthers and that could possibly mean that he would have to have a partner to help him complete the acquisition.
Curry admitted that he has held discussions with rapper and music mogul Sean 'Diddy' Combs about acquiring the Panthers and it looks like Combs is interested in a joint venture.
In a statement, Curry speaking of Combs said
He's a phenomenal business man and a guy that's turned nothing into a lot and done an amazing job of anything he wants to go after, his track record's pretty strong in making that happen
A Forbes list ranks the Panthers as the 23rd most valuable sports franchise in the world with their net worth hovering close to $1 billion. Comb's net worth has been estimated to be at around $820 million, while Curry is close to $50 million.
If the duo of Combs and Curry were to purchase the Panthers both agree that one of the first moves they would implement is the signing of free agent quarterback Colin Kaepernick. Kaepernick who hasn't played in the NFL since 2016, has been an often talked about topic around the league since his open protest against racial injustice in America.