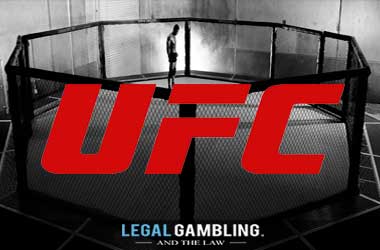 UFC 248 will feature a middleweight showdown between current champion Israel Adesanya and the contender Yoel Romero.
The co-main event will showcase UFC Women's Strawweight Champion Zhang Weili and Joanna Jedrzejczyk. Other matches on the night include Beneil Dariush vs. Drakkar Klose (Lightweight), Neil Magny vs. Li Jingliang (Welterweight) and Alex Oliveira vs. Max Griffin (Welterweight).
The T-Mobile Arena in Las Vegas will be hosting UFC 248 on March 7.
Best Sports Sites To Bet On UFC 248
UFC – Ultimate Fighting Championship
Main Event Breakdown
* Odds have been provided by BetOnline and are accurate of 25 February 2020
Israel "The Last Stylebender" Adesanya (18-0-0)
Odds to win: -250
Israel Adesanya is currently the undefeated middleweight champion. 14 of his 18 wins have been by knockout, while the other four have come by decision.
His striking accuracy of 54 percent is expected for an excellent striker. He has been the definition of the word dominant in his fights, but one has to wonder what would happen if he were to fight against someone with a ridiculous ground game. He has not had much luck of grappling, but he also has not needed to do so since he keeps knocking his opponents out.
He lands nearly 4.47 significant strikes a minute while absorbing 2.07. With this striking ratio, he is more than doubling his strikes compared to ones he is receiving.
For someone who does not have much of a ground game, his opponents have had a difficult time in taking him to the ground. His takedown defense is at 85 percent, so he does a good job defending himself here. He stands at 75 inches and also has a reach of 80 inches, which is very good for his size.
Yoel "Soldier of God" Romero (13-4-0)
Odds to win: +210
Romero's wins have mostly been knockouts with 11 of his 13 to be exact. He has a great striking accuracy of 51 percent and a better grappling accuracy than Adesanya, at 36 percent. Though his last two fights including the controversial UFC 225 bout with Robert Whittaker have been losses.
Romero lands about 3.32 signature strikes a minute and absorbs 2.95 a minute, leaving no room for error if he does not land the perfect knockout hit on his opponents. His takedown defense is at 78 percent, so he holds his ground well here. He stands at 72 inches and has a reach of 73.5 inches.
Official Pick
Adesanya might be too much here for Romero. He has a better reach and is the quicker striker but also defends himself very well.
Adesanya wins by TKO
Preview Of Other Main Event
Weili Zhang: -175
Joanna Jedrzejczyk: +150
"Magnum" Zhang (20-1-0) is currently the women's Strawweight champion. An aggressive striker, with an accuracy of 47 percent. She has a grappling accuracy of 31 percent, which is a bit lacking compared to the success she has had winning.
She lands 5.49 significant strikes a minute and absorbs 2.17. This is a great example of an aggressive striker. Good luck taking her to the ground, because she also has a 100 percent takedown defense.
Joanna Jedrzejczyk (15-3-0) is taking her try at the Strawweight belt, but she is from the flyweight division. 10 of her wins have been by decision. She has a striking accuracy of 46 percent and a grappling accuracy of 67 percent.
We have another aggressive striker, with 6.07 significant strikes a minute and while taking 2.77. She manages to last through most of her rounds, with an average fight time of 18:30 minutes. She also has a great takedown defense of 81%.
Official Pick
Jedrzejczyk might surprise people here. She has proven to be an aggressive striker with great accuracy. I am surprised she does not have many knockout wins due to the amount of hits she throws at her opponents. She also has a few inches of a reach and height advantage. Jedrzejczyk wins by decision