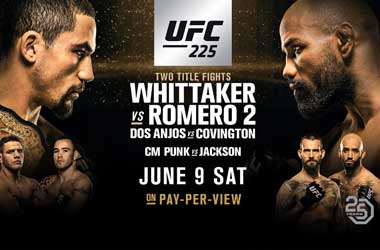 The Windy City is preparing to welcome some of the top Mixed Martial Arts (MMA) fighters in the world as the Ultimate Fighting Championship (UFC) prepares to host UFC 225 on June 9 at the United Center.
The UFC has put together a stacked card for Chicago and will feature two title fights as well as a number of other exciting matches.
The Main Event will be a re-match for the UFC Middleweight Championship as Australian Robert Whittaker will look to defend his belt against the Cuban Yoel 'Solider of God' Romero. The two fighters fought each other for the interim belt in 2017 and Whittaker came out on top. Romero will look to avenge his loss and become the first Cuban to win UFC Gold.
Whittaker goes into the fight as the favourite but knows that Romero has improved his game and will be looking to make it 1-1.
The co-Main Event will be for the UFC Welterweight interim championship and will see Brazilian Rafael dos Anjos (RDA) fight Colby 'Chaos' Covington. The winner will get to challenge UFC Welterweight champion Tyron Woodley for the real belt before the end of this year.
Colby Covington is the most hated man in Brazil as MMA fans believe that he has thrashed talked his way into an interim title match. Covington has disrespected the nation of Brazil, the people of Brazil and the fighters from Brazil. RDA is bent on not just winning the match but also teaching Covington respect and paying him back for insulting Brazil and its people.
UFC – Ultimate Fighting Championship
Other Exciting Fights
This is a stacked card and a number of top fights will not be featured on the pay-per-view.
Holy Holm vs. Megan Anderson
Holm will fight at 145 once again and will take on Aussie Megan Anderson who is making her UFC debut. If Anderson wins, she will most likely call out UFC Champion Cris Cyborg.
CM Punk vs. Mike Jackson
CM Punk – the former WWE superstar will make his way to the Octagon for the second time as he faces Mike Jackson. Punk will be on the pay-per view card as he has a massive fan following. If Punk loses without putting up a fight, it could very well be the end of his UFC career.
Alistair Overeem vs. Curtis Blaydes
Overeem is one of the most decorated MMA fighters in the world and a top contender in the UFC heavyweight division. However, his fight with Blaydes has been pushed off the pay-per-view card but fans will be eager to watch the Reem in action and see how he bounces back after he was viciously KO'd by Francis Ngannou.