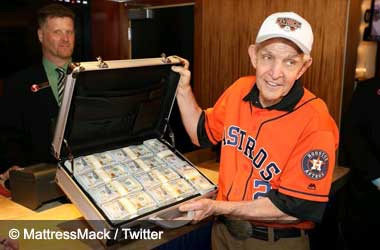 Summary
Mattress Mack won $72.6 million earlier this month after betting on the Astros to win the World Series
He is throwing refund parties to give back some of his winnings to his Gallery Furniture customers
Mattress Mack earned admiration from customers, with one calling him a "living saint"
Jim "Mattress Mack" McIngvale, the owner of Gallery Furniture, won the largest sports betting payout in history on November 5, 2022, after the Houston Astros won the World Series against the Philadelphia Phillies.
McIngvale transformed his $10 million sports bet to an astonishing $72.6 million in winnings when his favorite team won the title in six games. But not all of the money went to the American businessman's pockets as he gave back some of them to his loyal customers.
Mattress Mat Cuts Appealing Promo
In the lead up to the 2022 World Series, McIngvale's Gallery Furniture ran a promotion that offered customers the chance to have their purchase doubled if the Astros win the championship series.
Those who bought at least $3,000 worth of products from the store would have their money doubled and McIngvale fulfilled that promise after scooping a record payout for laying his money on Astros.
Refund Parties Give Back To Customers
Several customers already received their money during a refund party recently hosted by the 71-year-old businessman. Among them was Jesse Martinez who purchased a mattress set worth $4,000 for his parents back in July. The 23-year-old got $8,000 back and described McIngvale as "super genuine". Mattress Mack is set to distribute some of his winnings via three refund parties.
Ironman triathlete Lisa Haas-Cristoph, 59, who got injured in a bike accident last month, also bought a $5,000 mattress set from Gallery Furniture. After Astros' victory, she got $10,000 back and she has nothing but praises for McIngvale whom he called a "living saint".
One huge winner among the thousands of customers who took part in Gallery Furniture's promotion was Edgar Ruben Reyes who recently received two checks, each for $13,396. This isn't the first time that Reyes was rewarded by joining a Gallery furniture promotion.
During the 2011 Super Bowl, the 48-year-old also won $9,000 worth of furniture from the retail chain after correctly guessing the Packers as the 2011 league champion. Reyes said McIngvale is an inspiration to him and many others.
Several customers weren't even aware of the promotion, including Darlene Taylor and Michael Schaefer. They were surprised when they received refund checks for $19,999 and $20,000 respectively for purchasing items from Gallery Furniture. If you are feeling inspired why not checkout some of the best US sports betting sites and the latest betting opportunities.