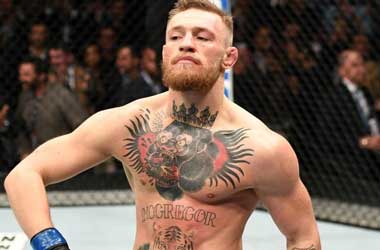 Conor McGregor was one of the most talked about athletes in 2017 even though he fought just once. The UFC superstar fought Floyd Mayweather in August 2017 in a boxing ring and ended up on the losing side.
However that one fight is alleged to have brought McGregor over $100 million and since then the Irish fighter has been partying and living life large.
The last time McGregor fought in the UFC was at UFC 205 which took place in November 2016 and McGregor ended up winning his UFC lightweight belt. The UFC has no clue if Conor McGregor will ever step into the Octagon again and defend his belt again but UFC President Dana White is hesitant to strip his biggest star of yet another UFC belt.
McGregor has held up the lightweight division by refusing to fight anyone. However, he was recently active on Twitter after UFC219 and took a number of pot shots at the number 2 ranked Dagestan fighter Khabib Nurmagomedov who put in a dominant performance on December 30th and defeated Edson Barboza.
McGregor tweeted
That Dagestani was dog shit the other night you's are all nuts. Game full of sloppy bums asking to be slept. Pay me my worth and Kings back.

— Conor McGregor (@TheNotoriousMMA) January 1, 2018
Truly truly truly get on your fucking knees and beg me. Otherwise I don't give a bollox.
My whiskey is out this year and thats Diddy bread.

— Conor McGregor (@TheNotoriousMMA) January 1, 2018
If the UFC and McGregor do manage to work out a deal, then McGregor should fight the interim champion Tony Ferguson and unify the belt. However, given the fact that he has started a social media feud with Nurmagomedov and has said in the past that he is willing to fight Nurmagomedov in Russia, there is a possibility that a McGregor vs. Nurmagomedov showdown could be in the works.
TMZSports
Dana White has had to put up with a lot of drama from McGregor and has been very patient with the Irish superstar till date giving his a lot of rope considering that McGregor has done a lot to build the UFC brand. However White's patience could be running out as McGregor continues to clown around and expect the UFC brass and its fighters to beg him to return to the Octagon.
White has also had to deal with a lot of flak on social media and criticism over the fact that he bends over backwards to please McGregor. The UFC President recently stated that the company is prepared to move on from Conor McGregor and find new talent to promote in 2018.