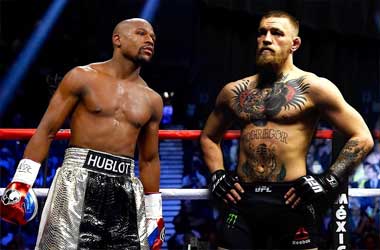 The clock is now ticking until the much anticipated match between Mayweather and McGregor finally becomes a reality.
Not long after this match was announced back in February of this year, pundits across the globe started to give their own opinions on who they thought the likely winner would be.
It will probably not surprise you if you are a fan of the sport that it is of course Mayweather who is attracting the most attentionin the betting markets, and it is true to the say that the volumes of cash that has been placed on him already to win is enormous.
Many Sportsbooks in places such as Las Vegas report the betting volumes on this match have been some of the highest they have seen on any match in recently history, and some have already christened it the "Superbowl" of the boxing calendar!
However, let us not forget that in any boxing match there are always going to be two possible winners, and whether you like his flamboyant manner or not, McGregor may be in with a chance of winning, albeit if you look at the betting markets a very tiny chance of actually winning!
Savvy Boxing Fans Securing the Best Betting Value
If you have been pondering on who will win this match, or if you are already convinced you know how it will end, that how about you putting some of your hard earned cash on the person you think will win?
What you may be interested to learn however is that there are plenty of ways that you are going to be able to lock in plenty of additional betting value if and when you do place your wagers on the Mayweather vs. McGregor match, and with that in mind let us enlighten you as to how you can do just that!
Mike Fight Promo
Firstly, what we would advise you to do is to look around and see just what any online or mobile sports books are giving away to their new customers, by way of bonuses free bets and even no deposit required bets.
Next put together a shortlist of the very best valued promotional offers and then divide you your bankroll in such a way that you can take advantage of as many of those offers and special sign up deals as you can.
By doing so you will then find that even if your bet on the Mayweather vs. McGregor Match isn't a winning one you may still have bonus credits or free bets available to you as part of the sign up welcome bonuses offered by mobile and online betting sites and Sportsbooks, so it will be something of a cushion for you if your bet does lose!
Just make sure that those sites or betting apps you do sign up to and make use of are licensed and regulated and have a first class reputation, as that way you will not experience any problems if you win and want to cash out your winnings!
Hedging Your Mayweather vs. McGregor Bets
Many fans of boxing are going to be eager to place their bets and wagers on their favourite boxer or the boxer they think is going to win any match long before those matches are scheduled to start, and there are plenty of benefits of doing so, as you may secure some much higher odds when placing such a bet nice and early.
However, what you are going to find is that many Sportsbooks and betting sites will close down there betting markets as is standard when the boxing match starts but will then open an in-play betting market on that match when the match begins.
It may be beneficial for you to monitor those in-play betting markets as if something you didn't expect to happen during the match happens or the boxer you have bet on isn't performing as well as you thought he would you will have plenty of additional ways of hedging those bets you placed before the match begun!
You will have to react quickly though if and when you do decide to make us of an in-play betting market as the odds available are always going to be updated in real time and can fluctuating quite wildly as the match is in play!
Popular Mayweather vs. McGregor Bets
The huge volume of wagers currently being placed on Floyd Mayweather means that you are not going to find the most generous of odds available on him winning, and if you think there is no way he can lose this match then consider placing some of the additional wagers that can be placed on him.
One popular type of additional bet you can place on Mayweather is to pick him to win the match but also name the round in which he will win, or name him as the winner and also name the method of victory too.
By placing such a two part bet you will find the odds available are going to be much more generous than an outright win bet on Mayweather. But make sure that you do shop around and make sure any odds you do find are the very highest ones being offered to you!
You can also place a similar range of bets on McGregor winning too and as such if you are not that impressed with his win odds then consider placing one of those to part bets and naming him as the winner instead of Mayweather!
What you may also be interested in doing is taking bets of other sports fans, that is something you can legally now do by signing up to a betting exchange. When you join such a site you can name the type of bets you want to offer to other sports fans and offer odds on those betting opportunities too.
If anyone you have taken bets off wins you do of course need to pay them out their winnings, however if their bets lose then you keep their stake money, less a small commission payable to the betting exchange!