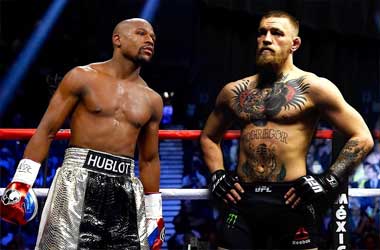 The 'money fight' between Floyd Mayweather and Conor McGregor on August 26 was scheduled to take place with both fighters wearing 10oz gloves.
Mayweather took to Instagram (shown below) a few days ago to inform McGregor that he was willing to fight in 8 oz gloves in order to give the UFC fighter a better chance of winning.
McGregor uses 4oz gloves when he fights in the Octagon and based on UFC rules those gloves are cut off mid-finger.
McGregor trolled Floyd Mayweather during the four city press conference tour and told fans that Money Mayweather fixed the fight agreement with a number of stipulations on the gloves to try and stack the deck in his favor.
Some of those stipulations to McGregor included the use of 10oz gloves for the fight, not being able to use gloves padded with horse's hair and no Mexican gloves.
MMA WOOF TICKETS
Mayweather has tried via Instagram to clear that air and inform boxing fans that he is willing to accept the fight in 8 oz gloves to give McGregor the advantage.
However the Nevada State Athletic Commission (NSAC) has turned down the request and stated that the fight must take place with 10 oz gloves as per state rules.
Fighters who are in the weight class of 135 – 147 can use 8oz gloves provided they are in agreement when signing the contract. Fighters, who are over their weight class, must use 10oz gloves. The Mayweather vs. McGregor bout takes place at 154, a weight that Conor McGregor is comfortable with since he fights in the Octagon at 155. Mayweather on the other hand is used to fighting at a lower weight class.
The NSAC stated that it would not permit the change in the best interest of the fighters as they were committed to protecting the safety and health of the fighters.
It is hard to believe that Mayweather would not have known of the weight class vs. glove size stipulation in Nevada. If that be the case, then Mayweather would have known that there was no way that the NSAC would have approved the request to fight in 8oz gloves and the Instagram post could have been just for publicity sake.
Whatever be the reason, one thing is clear is that the McGregor's comments and mind-games have had an impact on Mayweather as he has responded to those taunts and accusations.