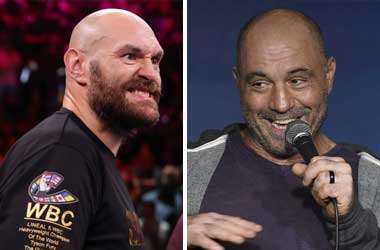 Summary
Joe Rogan said Tyson Fury had zero chance of defeating Jon Jones in a locked room
Fury launched a foul mouthed tirade against Joe Rogan for his comments
Jon Jones responds to Tyson Fury and asks him to reach out to Dana White
UFC veteran commentator and comedian Joe Rogan runs the most successful podcast in the world called 'The Joe Rogan Experience'. Rogan and his guest Andrew Schultz had a discussion on a recent podcast where they compared the fighting abilities of UFC heavyweight champ Jon Jones and WBC heavyweight champion Tyson Fury who is struggling to find an opponent remains undefeated.
Joe Rogan Comments Upset Tyson Fury
Rogan who is known to be very outspoken on his podcast made reference to Tyson Fury and Jon Jones and said "to know who the baddest man is on the planet, you need to put Fury and Jones in a room and see what will happen".
Rogan said he would "bet everything on Jones as there was no way in hell that Fury would leave the room alive". Rogan said "Fury's only chance was to KO Jones with one punch but that was unlikely to happen as Jones would take Fury down and finish him".
Tyson Fury who generally tends to stay off social media decided to respond to Rogan's comments and launched a foul mouth tirade at Rogan.
Tyson Fury is NOT happy with Joe Rogan for saying he'd lose in a fight to Jon Jones.

"You little fucking bald PUSSY" pic.twitter.com/lwROnkkMX1

— Barstool Sports (@barstoolsports) May 18, 2023
Fury said as he paced around the hallways of his gym
I heard Joe Rogan say something about me, and I've been off all the social medias and didn't reply to that little pussy, little fucking midget, bald-headed midget. I heard him say that Jon Jones could fuck me up if we were in the room together. I don't think so. Not a man born from a mother could fuck me up, in a room, on our own. Whatever happens in that room, I'd be walking out. Not a fucking problem
Jon Jones Responds To Fury's Comments
Jones also took to social media to address the Gypsy King and ask him if Rogan's comments had touched a sore nerve. Jones made it clear that in the boxing ring, no one could touch Fury but that would change dramatically if Fury decided to step into the Octagon.
Jones ended by saying if Fury thought otherwise, he could put his thoughts to rest by calling UFC President Dana White to put it to the test!
Hey Tyson, it seem like Joe may have struck a nerve. I'll admit there's no one touching you in that ring right now, but let's not let that confuse you with what would happen if you stepped foot in my cage. If you ever want to put some of those questions you got going on to rest,…

— BONY (@JonnyBones) May 18, 2023
Fury also responded
‼️ Tyson Fury responds to Jon Jones and challenges him to a fight in the boxing ring…

[🎥 @Tyson_Fury] pic.twitter.com/Pa5chumnH7

— Michael Benson (@MichaelBensonn) May 19, 2023
Would you like to Tyson Fury take on Jon Jones in a UFC bout or in the boxing ring?