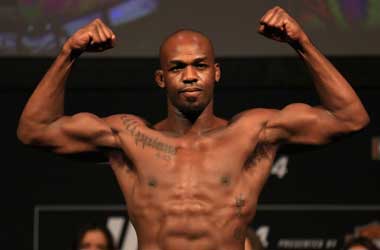 Jon 'Bones' Jones confirmed via his Twitter account that he had spoken to the UFC on Monday night and decided to relinquish his lightheavyweight championship as the UFC was not willing to negotiate and give him a pay raise.
Jones widely regarded as the greatest of all time (GOAT) has never lost a title fight in the Octagon but has been forced to give up the belt before due to his antics outside the Octagon.
On both those occasions, Jones was forced to give up the belt.
This time around, he is giving up the belt voluntarily as the UFC will not meet his demands.
Just got off the phone with @Ufc, today I confirm that I'm vacating the light heavyweight championship. It's officially up for grabs. It's been an amazing journey, sincere thank you to all my competition, Ufc and most importantly you fans.

— BONY (@JonnyBones) August 17, 2020
MMA fans were expecting Jones to move up to heavyweight and challenge UFC heavyweight champion Stipe Miocic for the belt. However, UFC President Dana White made it clear that Francis Ngannou will be the next fight for Miocic. White gave Jones a deadline last week and said that Jones would have to rematch Dominic Reyes and defend the lightheavyweight belt or make a decision to move up to heavyweight.
Now that Jones has relinquished his title, the UFC has announced a bout between Dominic Reyes and Jan Blachowicz for UFC253 which will take place on September 25. UFC253 is set to be headlined by a UFC middleweight championship fight between champ Israel Adesanya and top contender Paulo Costa. UFC253 could end up having two title fights as the Reyes vs. Blachowicz fight will now be for the UFC lightheavyweight championship.
Luke Thomas
Jon Jones has nothing more to prove at lightheavyweight as he has run through the division. The 33 year old has a lot more exciting fights awaiting him at heavyweight which opens the possibility of him being able to sell more pay-per-views and earn more money.
However, Jones has confirmed that he will only fight at heavyweight if the UFC is willing to pay him more money.
Jones Will Stay In The Testing Pool
Jones who has been suspended in the past for steroids confirmed via social media that he will stay in the testing pool for another 6 months in good faith. He also confirmed that he will continue to train all forms of MMA and lift weights in order to prepare for his move to heavyweight.
Given the fact that Miocic just defended his belt and usually fights just once a year, the rematch between Miocic and Ngannou will take place in early 2021. This means that Jon Jones will most likely have to wait another 12 months before he can fight for the UFC heavyweight title, unless he wants to take a tune-up fight at heavyweight.