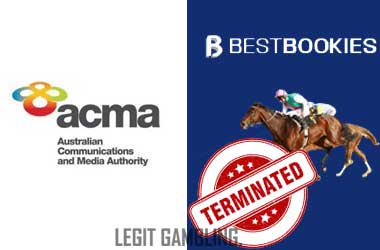 Summary:
Best Bookies provided an unlicensed online wagering service to Australians
The company has now stopped offering the service after receiving the ACMA warning
ACMA urges licensed providers to examine their existing/future arrangements with third-party services
Best Bookies Price Pty Ltd has terminated its betting odds comparison service in Australia after receiving a formal warning from the Australian Communications and Media Authority (ACMA) for violating the country's Interactive Gambling Act (IGA).
Best Bookies Not Authorized to Offer Online Gambling Service
According to ACMA, Best Bookies provided a "gambling service" to Australians by allowing them to compare betting odds across licensed wagering sites and placing bets on their behalf. ACMA stated that the company is not authorized to conduct such activities under the IGA.
Even though Best Bookies had obtained permits from the relevant state-based regulator, it did not hold the required wagering license to offer such a service, ACMA said in its notice. Thus, the company was found to be offering an "unlicensed interactive gambling service", which was in breach of the IGA.
Best Bookies has now stopped providing the service after receiving the warning, ACMA confirmed.
Under the IGA, it is illegal for gambling providers to offer certain online services to Australian customers. The prohibited services include online casinos, betting on the outcome of a lottery and in-play sports betting.
Online sports betting is the only form of online gambling currently allowed in Australia under the IGA, but gambling firms must first obtain an Australian license to legally offer the service to local customers.
ACMA Advises Licensed Providers to Scrutinize Deals with Third Parties
Players can verify if they are dealing with a licensed operator by checking the register of authorized interactive gambling providers in the country which is available on the ACMA website. Customers are advised to bet only with licensed wagering platforms as they have adequate player protections in place as part of their license.
ACMA has also urged all licensed operators in Australia to properly examine any arrangements they currently have or planning to enter into with third-party provider services to make sure that those services operate within the law and comply with the requirements of the IGA.
ACMA is an independent Commonwealth statutory authority tasked with investigating entities that break the rules for online gambling.
The agency may take a range of actions against the violators, including giving them a formal notice or an infringement notice, referring them to law enforcement, and requesting internet service providers to block access to their sites.
Anyone may face criminal charges and/or civil penalties of up to $2.3 million if found breaching the IGA.