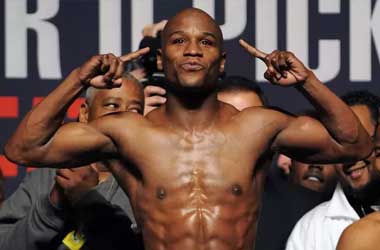 Floyd 'Money' Mayweather has been in the news of late for taking a fight in RIZIN, cancelling it and then once agreeing to fight on New Year's eve in what Mayweather called the highest paying exhibition fight in the world. Many analysts claim that the retired Mayweather must continue to keep fighting because he spends his money way too quickly.
Mayweather recently had to pay a hefty $600,000 fine to the U.S. Securities and Exchange Commission (SEC) to settle a case involving cryptocurrency fraud. Mayweather was implicated in the matter due to the fact that he had promoted a particular initial coin offering (ICO) to his followers without disclosing that the company had paid him for promoting their ICO.
Floyd Mayweather has 22.3 million followers on Instagram and another 7.8 million followers on Twitter. He promoted the ICO on social media but did not tell his followers that it was a paid endorsement – a mandatory requirement by the SEC.
Given the hype surrounding the cryptocurrency industry and the number of fraudulent ICO's out there, Mayweather should have taken more precautions in promoting the ICO to his millions of followers. DJ Khaled was also pulled up for a similar offence but his fine was just $150,000.
In a statement, Stephanie Avakian, SEC co-enforcement director said
These cases highlight the importance of full disclosure to investors. With no disclosure about the payments, Mayweather and Khaled's ICO promotions may have appeared to be unbiased, rather than paid endorsements
Mayweather Will Have To Fight In 2019
This incident will give boxing and MMA analysts more fuel to speculate that Mayweather will have to box or take a MMA fight in 2019. It is highly unlikely that Mayweather will step into a full-fledged MMA fight irrespective of the money involved as he knows that he can book another hefty payday in the boxing world.
There is no shortage of opponents who are willing to fight Mayweather in a boxing ring as they know it will turn out to be the biggest pay day in their career. Canelo Alvarez is eager to avenge his loss to Mayweather and so is Manny Pacquiao. However, Mayweather will risk his perfect 50-0 record by stepping into the ring with either of these two fighters.
There is talk that Mayweather is more interested in a boxing match with MMA superstar Khabib Nurmagomedov who is not a boxer. However, Khabib has a massive fan following in the MMA community and like the McGregor fight it could very well pull in record pay-per-view buys.